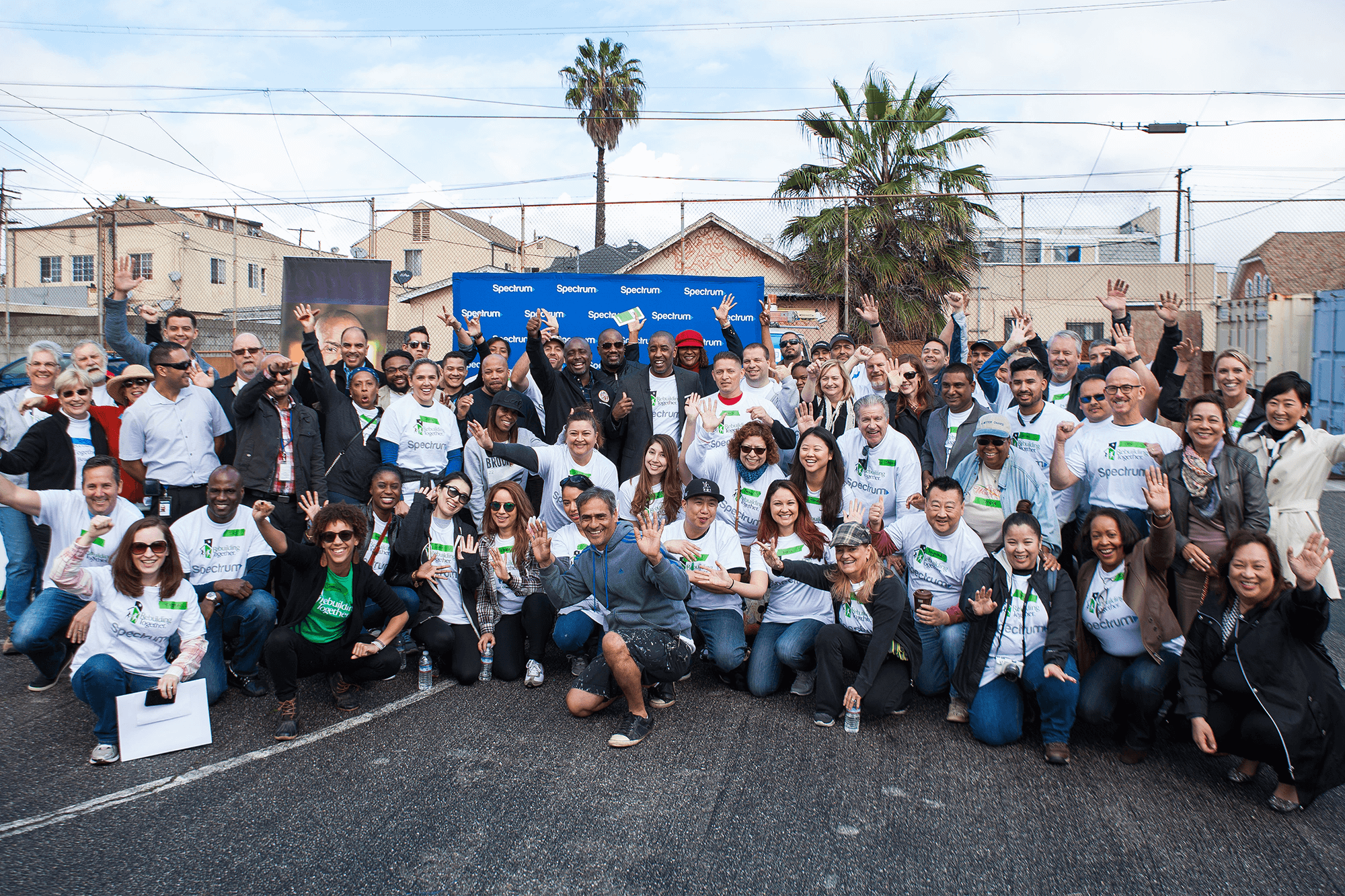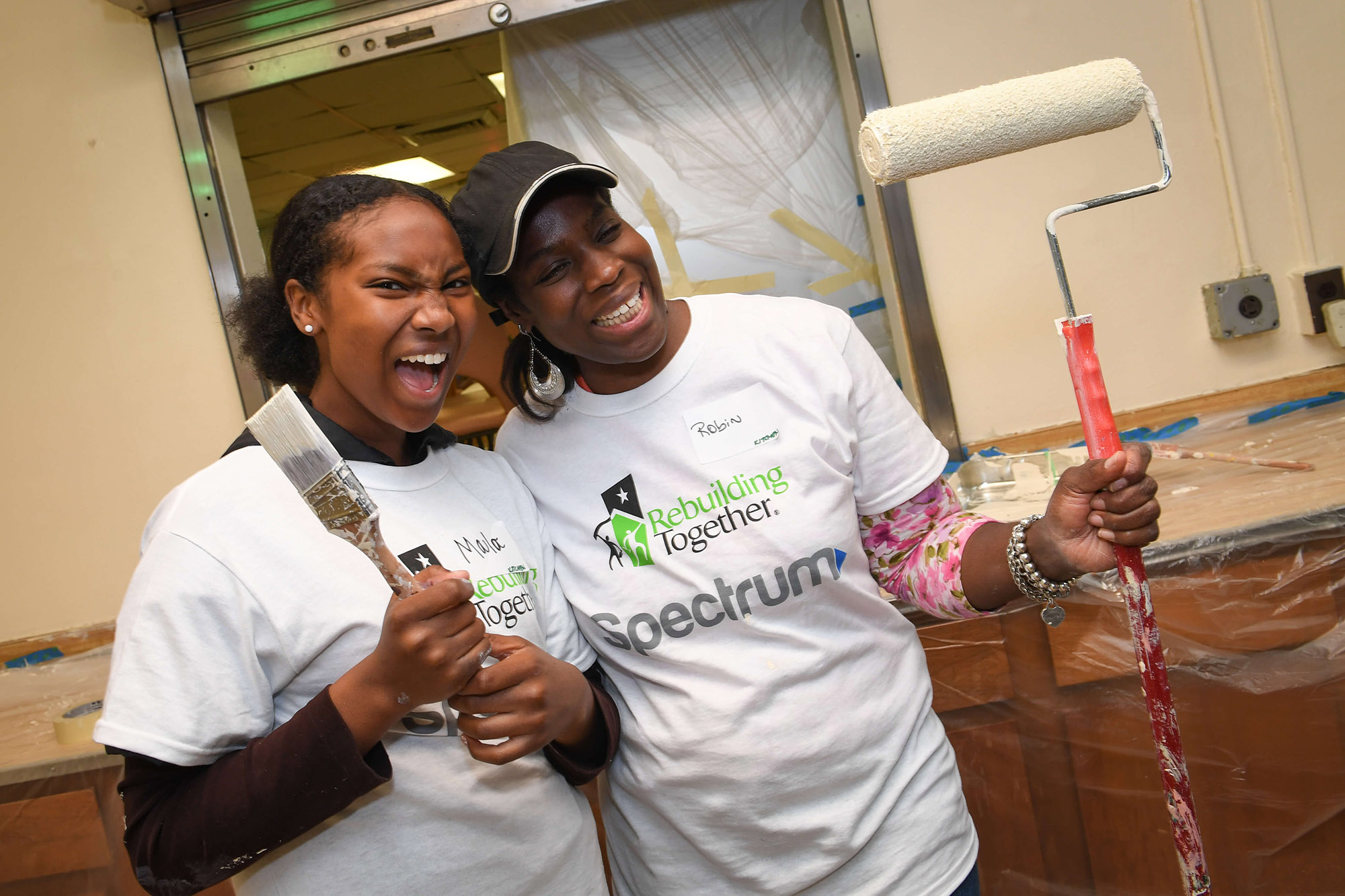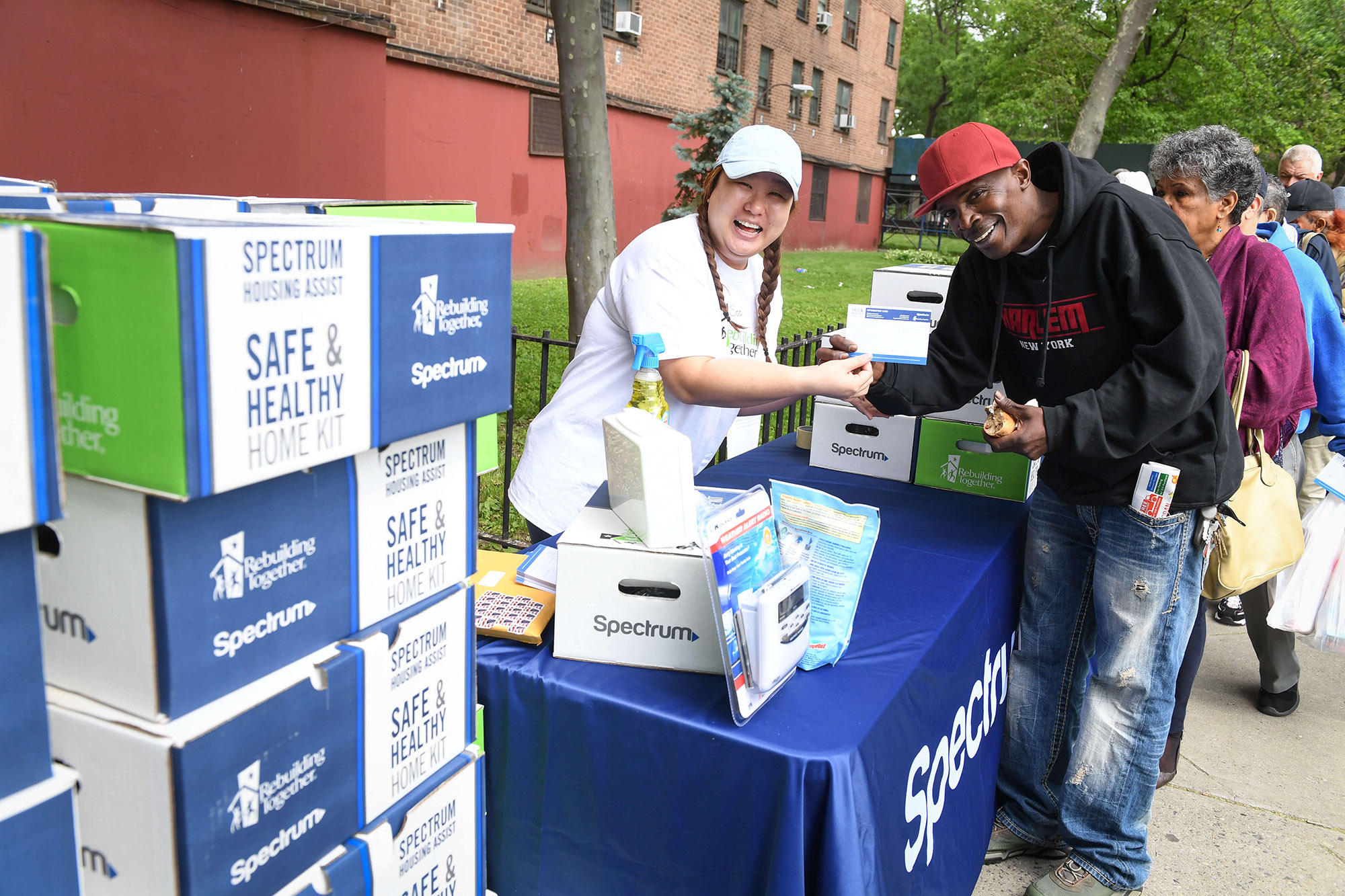 Charter Communications
Together, We Make Homes Safe & Healthy
Charter Communications knows the importance of a safe and healthy home. Through their national philanthropic initiative, Spectrum Housing Assist, employee volunteers roll up their sleeves to provide critical home repairs to residents in need. Rebuilding Together is proud to be a national partner in this effort.
The Homeowner Story Makes it All Worthwhile
From Montgomery, Alabama, to Los Angeles, California, to Austin, Texas, consider some of the heartwarming stories we've already partnered on in 2017:
• In Montgomery, a Spectrum technician visited the home of a customer named Roosevelt and discovered a large tree had fallen directly onto the house, damaging a massive portion of the roof. Along with professional roof repairs, we cleaned up old shingles, installed home wrap and siding, freed the home from debris and primed and painted three interior rooms.
• In the Park Mesa neighborhood of South Los Angeles resides a sweet soul named Tempie. Director of the community food bank, Tempie regularly came home to a house in need of repairs that her nonprofit salary just couldn't cover. We landscaped the yard, removed a significant amount of debris and painted the exterior of the home.
• In East Austin, we met Andrew -- "Rambo," as he's nicknamed, who is a disabled Desert Storm veteran who was struggling to keep up with extensive repairs that years of hard weather had on his 1900s home. We rewired electrical components of the home, completed interior and exterior painting, cleared the property of debris and overgrown shrubs and repaired Rambo's decaying porch.
We Make a Great Team
Rebuilding Together has teamed up with Spectrum employees to give homeowners like Roosevelt, Tempie, Andrew and dozens of other homeowners across the country new hope.
Spectrum volunteers are working towards a company-wide goal to improve 25,000 homes by the year 2020.
Our partnership with Spectrum allows us to reach homeowners across their nationwide service territory to help make a safe environment so our recipients can live and thrive in the homes they love.
"I was excited to see that we're supporting a veteran and a single parent. I'm actually both myself, so I personally felt this was a great cause for me to volunteer for and support."
Gilbert, Spectrum Field Technician
Safe & Healthy Home Kits
To increase its impact, Spectrum Housing Assist also partners with Rebuilding Together to distribute Safe & Healthy Home Kits. The kits include critical home maintenance materials to help ensure safe and healthy neighborhoods, and are offered to neighbors in conjunction with our rebuilds.
See more success stories and learn more about Spectrum Housing Assist's commitment to safe and healthy homes across the U.S. on their website.