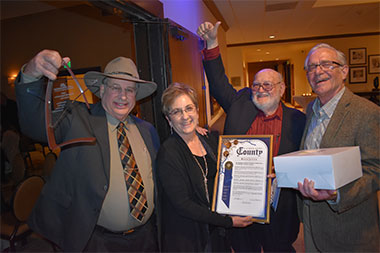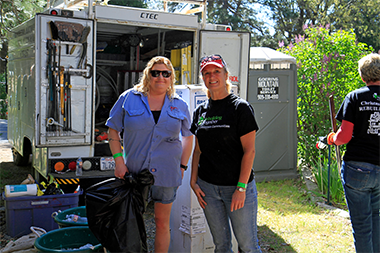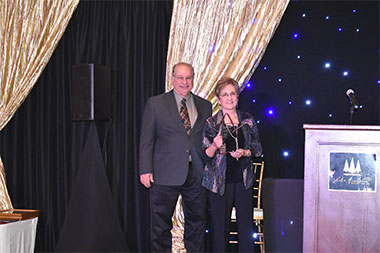 Rebuilding Together Mountain Communities
Deep roots are a source of strength and stability. Establishing these roots is a strategy that allows an organization to access the resources it needs during periods of change while continuing to help people thrive. Over 25 years, Rebuilding Together Mountain Communities has adapted and flourished because of the deep roots it has grown in its alpine home.
High in Southern California's San Bernardino mountains lies a cluster of small unincorporated towns, villages and neighborhoods. Sometimes lyrically referred to as the Rim of the World and other times less imaginatively as western County Service Area 54, the lofty stretch includes places with idyllic names like Valley of Enchantment, Blue Jay, Running Springs, and Skyforest.
Rebuilding Together Mountain Communities "started out real simple," as volunteer manager and board Secretary Sue Parks tells it. It was founded in 1994 by a group of local building contractors intent on using their skills to help their neighbors.
In the beginning, the group repaired a handful of homes one day per year. Now, Rebuilding Together Mountain Communities inspires people to volunteer all year long.
Sue summed up the organization's first evolution matter-of-factly: "People live here year-round, so we wanted to be there for them year-round." The mountain communities area swells with tourists during the summer months and ski season, but remains rural at heart. According to the San Bernardino County government, the combined Hilltop, Lake Arrowhead, and Crest Forest areas are predicted to be home to just over 30,000 full-time residents in 2020.
Many of these residents achieved their dream of a mountain cabin retirement. But the area's cold, wet winters are tough on buildings and on people. "They do okay for a few years," Sue said. "Then, like we all eventually do, they get older. They're living on small fixed incomes. It gets hard for them to keep up with repairs and manage their homes."
Several members of the Rebuilding Together Mountain Communities board of directors are also, as the saying goes, getting on in years. Their decades of longevity of service is a result of their commitment to the organization and love of the work.
Board Treasurer Anne Wildhaber and her husband, Rich, have been involved in Rebuilding Together Mountain Communities since the organization began. In 2013, they decided to move away from the area. Yet they continue to make the 3 1/2‑hour drive up into the mountains every month for board meetings.
"My husband and I are the oldest —," Anne stops herself, laughing. "Not that. Let's say rather the longest-serving board members. The board works well together. We've developed effective systems. We're grassroots and very professional, and do our due diligence spending funds and selecting homeowners to support. However, we know it's time for the organization to evolve again."
The board is taking steps to recruit younger members. Part of the motivation is because the board aware that some members are reaching an age where they're not going to be able to stay as active. Rebuilding Together Mountain Communities also wants to bring on younger people for their younger ideas.
Anne and Sue, who are also best friends, have no doubt the organization will succeed in this next evolution. "People know we're not a fly-by-night group," Anne explained. "We're firmly entrenched in this place. That's one of the reasons why it's such a vibrant organization. Our local connections are our strength."
Sue agreed. "Our community here is what got us going, has kept us going, and will keep us going."
Embracing the future while staying true to its deep roots is a challenge Rebuilding Together Mountain Communities is more than ready for.
Rebuilding Together is really about hard-working, compassionate people helping other people. Volunteer with your local Rebuilding Together affiliate and become a partner in your community.
Want to read more about Rebuilding Together?
Sign up to receive our email updates!