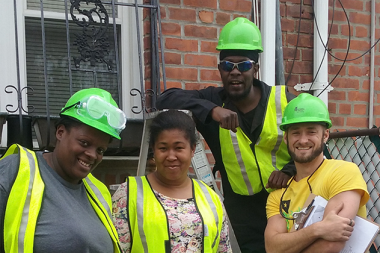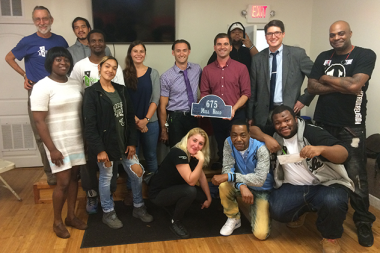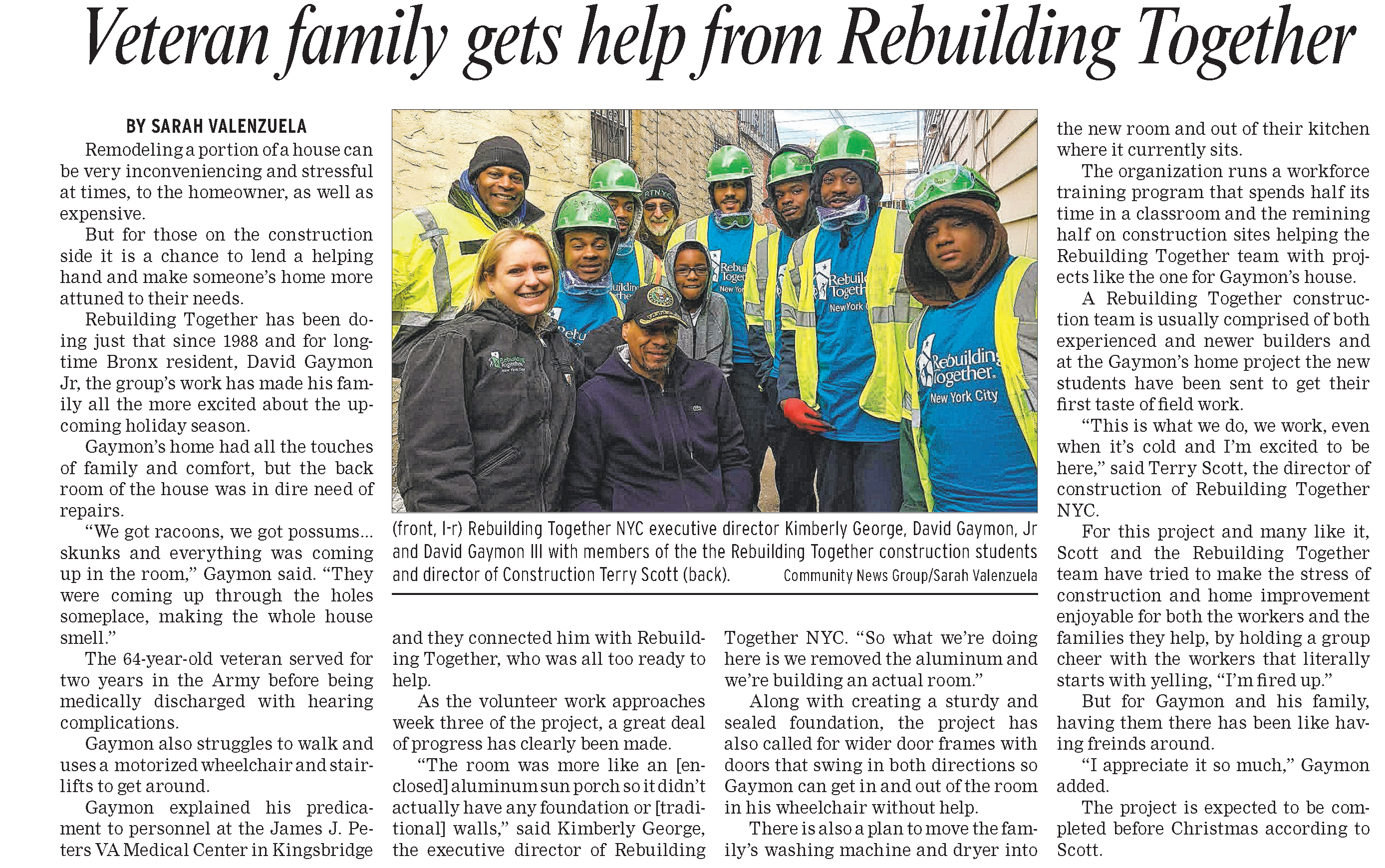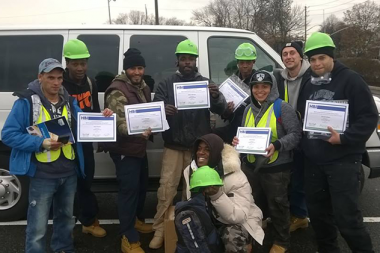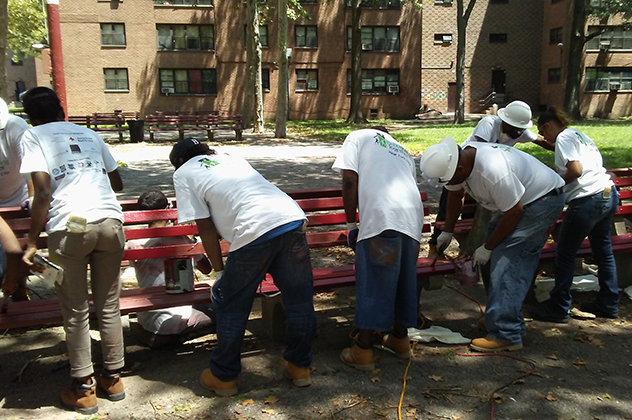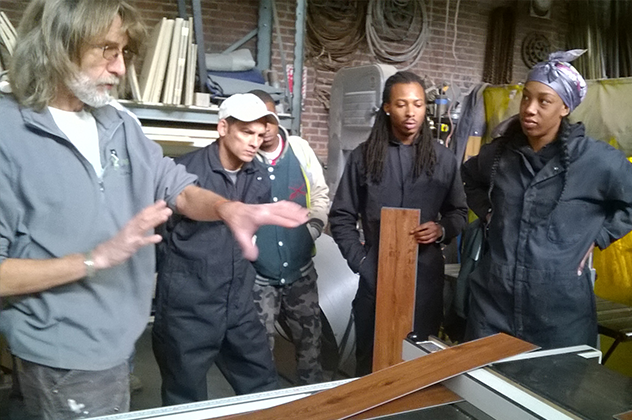 Rebuilding Together NYC, Shawn Reid, Workforce Training Program graduate
A career is more than a job. It's a path toward more financial security, new experiences, and opportunities to grow as a person and professional.
Life is good if you can get on the right career path. It's a lot tougher when you can't.
Shawn Reid was on the wrong path. As a kid in New York City's Coney Island, he'd been in and out of trouble. At the age of 20, he'd became a father earlier than he'd intended. Nineteen years later, his son—who is also his best friend—moved out of state. Shawn's own father, who wasn't around when he was growing up, had recently died along with both Shawn's grandfathers. Shawn had also lost a job he'd held for 8 years, and was struggling to get by with two low-paying part-time jobs.
It all made Shawn feel like giving up. "I was going through down times," he said. "I wanted to be in a better position to do more for myself and my family. I decided I needed to stand tall and make certain changes in my life to get to where I wanted to be."
With that resolve, Shawn visited the offices of Workforce1, a service that connects New Yorkers with training and career opportunities. There, Shawn heard about Rebuilding Together New York City's Workforce Training Program and how it could give him a chance to break into the construction field. It was a career path he'd always been interested in, but hadn't been able to pursue on his own.
"I used to work odd jobs in construction, but they weren't stable jobs. But even if a job wasn't paying me much, I enjoyed it and always did 100 percent. When Rebuilding Together New York City accepted me into the program I was super excited because I knew I could make a career in construction."
Construction is booming in New York City. Union construction careers provide fair pay and benefits, steady work, and dependable raises. People wait in line for days to attend recruitment events for the apprenticeship positions that are the first step on a long-term career path in construction. Because New York State has approved Rebuilding Together New York City as what's called a direct entry provider, its program graduates get special access to these coveted apprenticeship programs.
Rebuilding Together New York City's Workforce Training Program is different than other direct entry programs because its participants spend three weeks in the field working on real construction sites.
"Our program is a quadruple win," explained Jessie Pierce, Workforce Training Program coordinator at Rebuilding Together New York City. "Over six weeks, we help people learn valuable trade skills and get on a career path. They help us complete critical repairs of homes and buildings. Those repair projects transform the lives of people in New York City neighborhoods. And, people who graduated from the program have later come back to volunteer in the community through Rebuilding Together New York City."
What the program participants do in the field depends on the community projects Rebuilding Together New York City is working on. During Shawn's training, it included the repair and demolition of homes that had been flooded or abandoned as a result of Hurricane Sandy. Shawn and the other participants learned to properly remove materials still in salvageable condition. They got hands-on experience with safety practices, landscaping, insulation, drywall, taping, mudding, and recognizing structural damage.
With the skills he learned, Rebuilding Together New York City was able to place Shawn with Laborers' Local 731, the excavators union. "Excavation is physically demanding, hazardous, skilled work—and Shawn excels at it," Jessie said. "His apprenticeship director has asked me to send over more people like Shawn."
After spending many years without a clear direction, Shawn has transformed his life with the support of Rebuilding Together New York City.
"Today, my friends and family are proud of me," Shawn said. "And my son is proud of me. He's seeing I made certain changes in my life. Because I've got a career and I'm trying to better myself, my son also refocused hisself. He sees in me that there's a better way of life if you go down the right path."
----
More about Rebuilding Together NYC's Workforce Training Program:
Training Program Helps Aspiring Construction Workers (NY1 News)
Nonprofit overhauls vet's home for Veterans Day (News 12 The Bronx)
Veteran family gets special help from Rebuilding Together NYC (Bronx Times)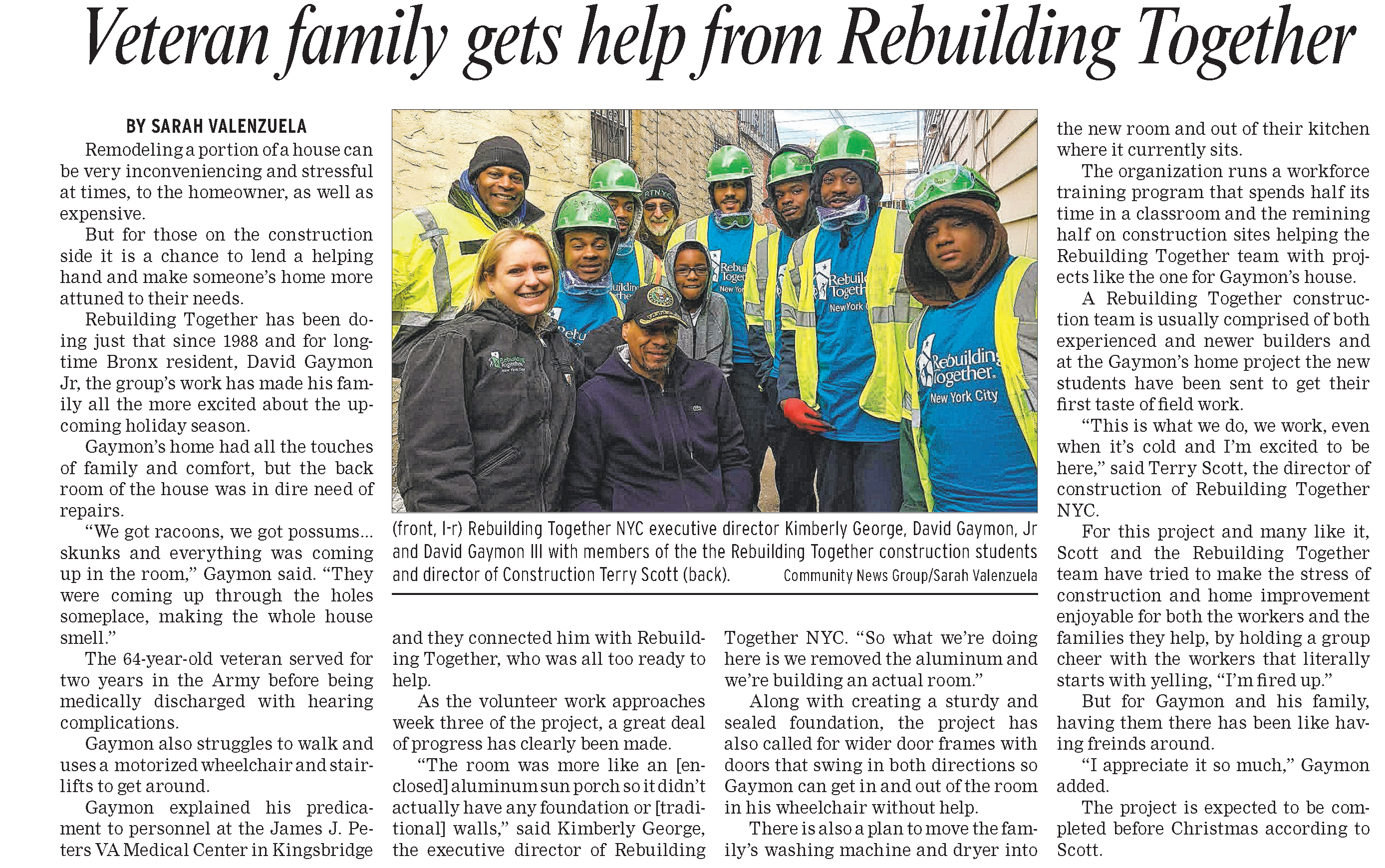 Want to read more about Rebuilding Together?
Sign up to receive our email updates!