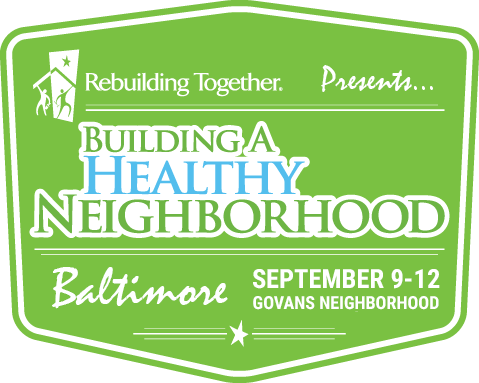 Rebuilding Together serves communities across the country facing a lack of safe, affordable and accessible housing.
Building a Healthy Neighborhood (BaHN) exemplifies the efforts central to the mission of Rebuilding Together, helping to solve the urgent need for safe homes and communities for everyone. Recognizing that unsafe or unhealthy living conditions at home account for many of the leading causes of preventable fatality, illness and disability, today – this annual effort demonstrates the positive effects of home and neighborhood revitalization on the overall health of homeowners, families and communities, and has given back nearly $2.5 million in market value nationwide to-date.
2017
Baltimore

In 2017, Building a Healthy Neighborhood was held in the Govans community of Baltimore, MDalong the York Road Corridor. Since 1989, Rebuilding Together Baltimore has been a staple in the community, serving 35 Baltimore neighborhoods and repairing over 1,400 homes. Rebuilding Together Baltimore built on their success to date, through the implementation of Building a Healthy Neighborhood.

Located in northeast Baltimore, the Govans/York Road Corridor area contains numerous historic neighborhoods. York Road is widely seen as a historic dividing line of race and class. Wilson Park/Northern in Govans wass the focus for the project in 2017. The Wilson Park/Northern Association was formed in 1982 as a result of the merger between the Wilson Park and Northern neighborhoods. Wilson Park is named for Harry Wilson, who began developing the community by building houses in 1917 and was one of the city's first black bankers offering mortgages to Wilson Park homebuyers.

Many of the homes still feature the original wood frame houses designed by Mr. Wilson. The Northern neighborhood was home to working and middle class second generation Americans and as the times evolved, African Americans. Hailing from the neighborhood are such notable residents as civil rights lawyer Charles Ewbank Tucker Dearing and Lloyd Bowers, a former Baltimore City School Board Commissioner. At its height, Govans was a shopping hub that attracted thousands of customers throughout Baltimore and the surrounding metropolitan area. The 2008 financial crisis had a strong economic impact on many Govans residents, forcing them into foreclosure.

In May of 2015, a comprehensive plan for the York Road commercial corridor was passed through the Baltimore City Department of Planning. Rebuilding Together's work in the Govans area will complement the recommendations made through the comprehensive plan to transform this area into a vibrant, revitalized community.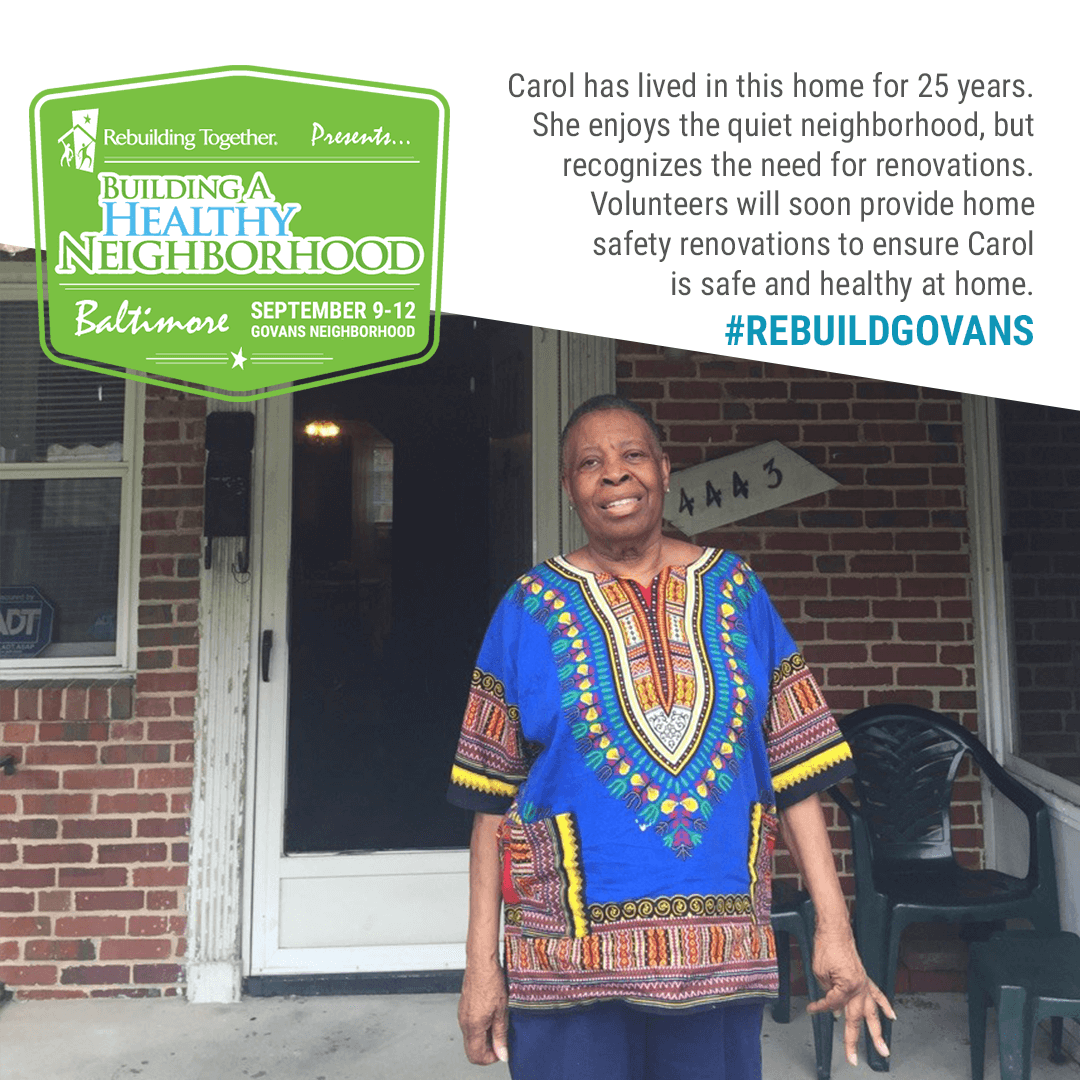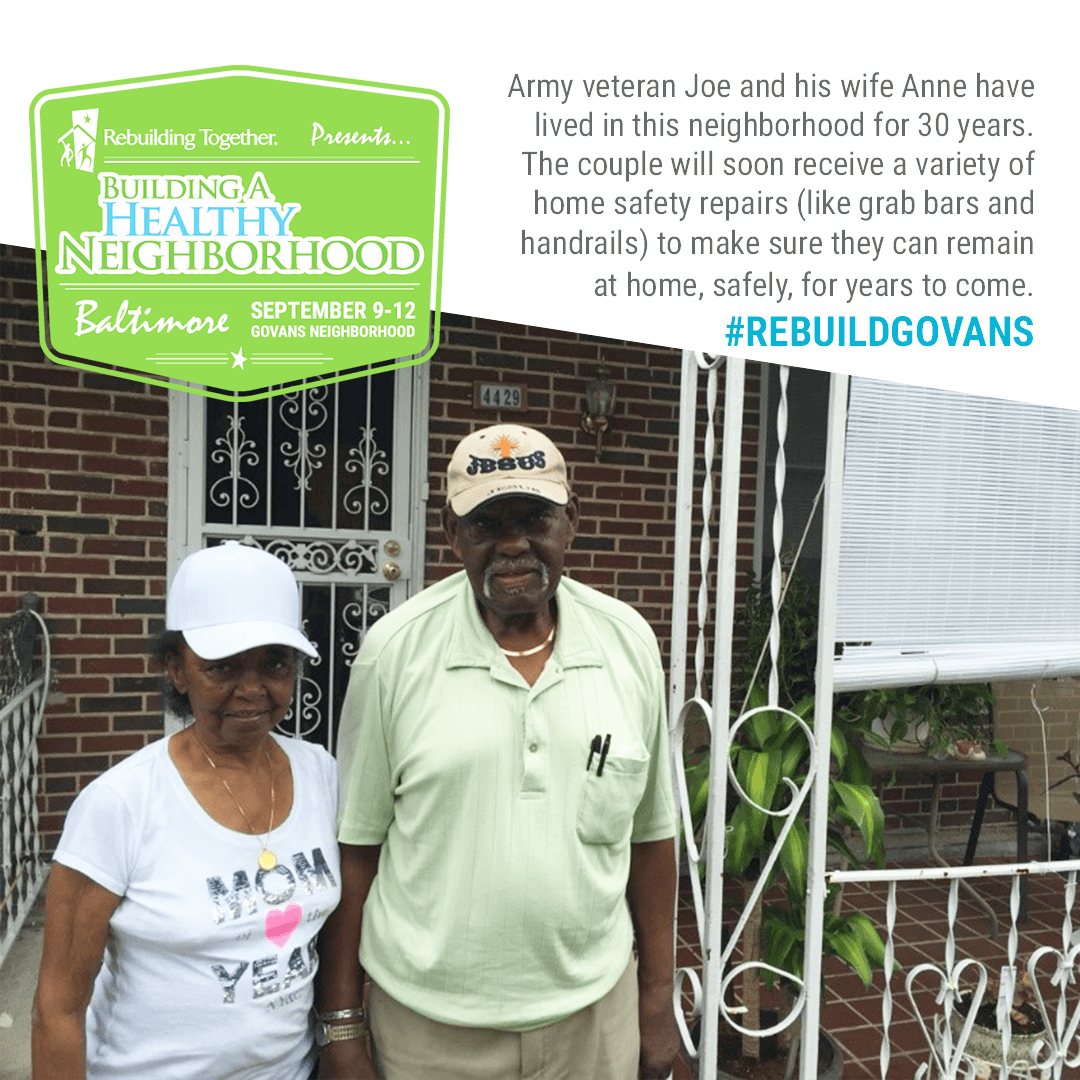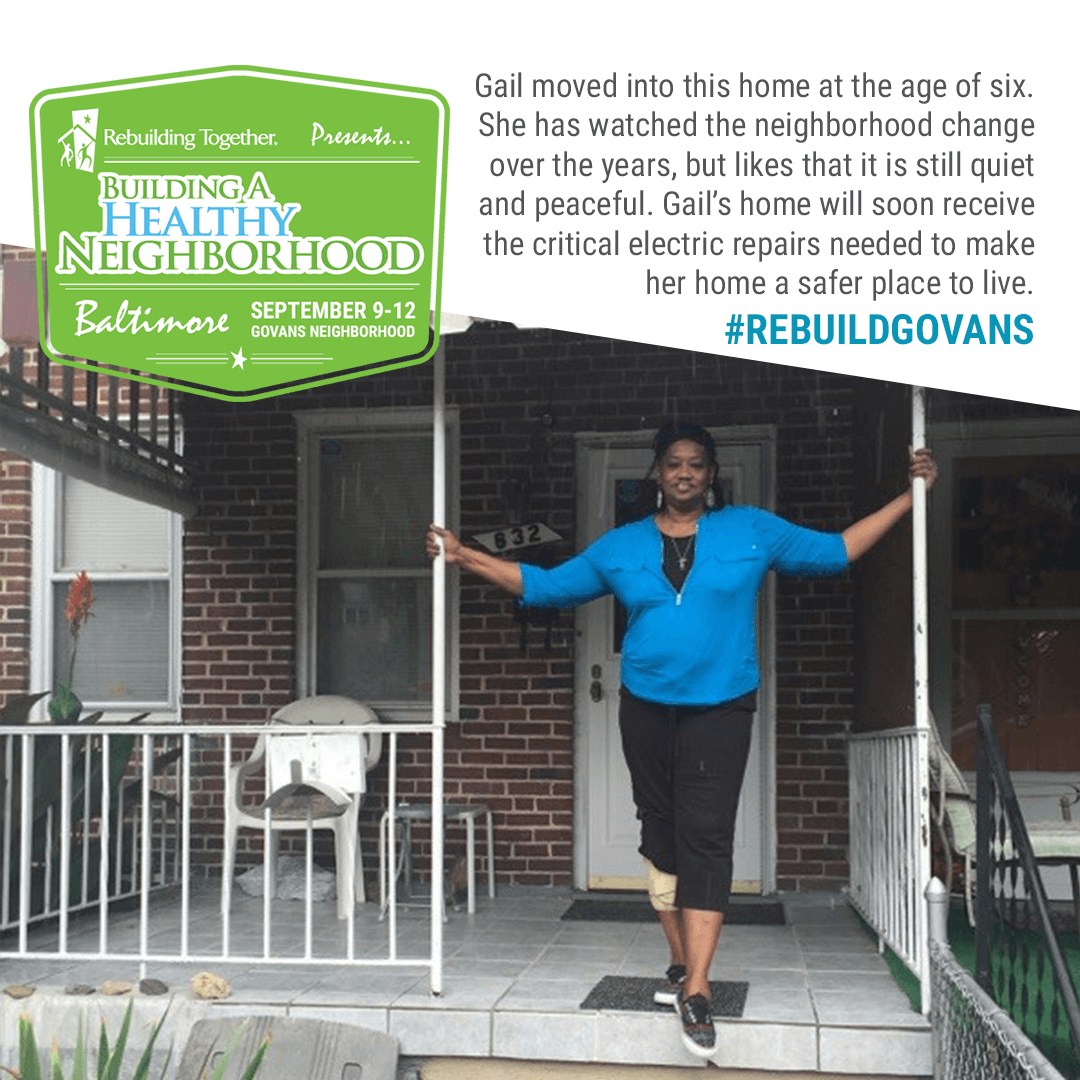 Our Partners
Our project in Baltimore would not have been possible without our partners CBRE, Lowe's and Wells Fargo. Their commitment to serving our neighbors in need has transformed thousands of homeowners and community members across the country.
---
2016
Northeast Ohio
On September 23 and 24, Rebuilding Together brought together volunteers in Cleveland, to help revitalize Northeast Ohio. We worked in the Slavic Village neighborhood, creating real change for the homeowners and residents of that community.
Volunteers provided critical home repair, energy efficiency updates, and numerous health and safety modifications to 10 neighborhood homes. Volunteers also rejuvenated "The Haven" – a community space serving residents of Slavic Village – and cleaned up the neighboring homes, impacting the entire neighborhood. Rebuilding Together offered health related training and screenings to the entire community, transforming the health and safety of the residents.
Rebuilding Together also hosted a Community Celebration & Resource Fair, which provided educational information on safe and healthy housing to help create a lasting transformation for the residents of Slavic Village. Additionally, we hosted a town hall for all community members and residents, where they could ask questions of community leaders and organizers working to transform Slavic Village.
Our Partners
Our efforts in Northeast Ohio would not have been possible without our partners: CBRE, Lowe's, Charter Communications and the Roofing Industry Alliance for Progress. Their dedication to transforming lives and communities has helped - and continues to help - thousands of homeowners and community members across the country.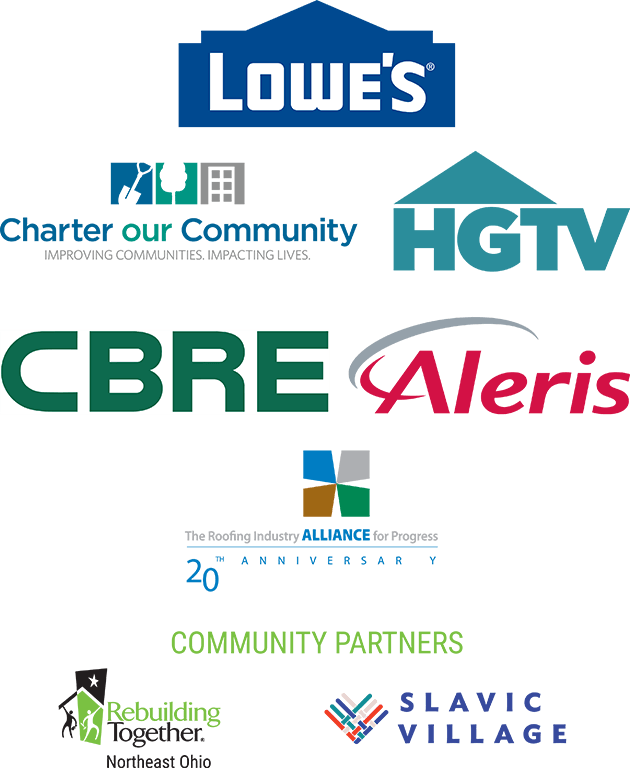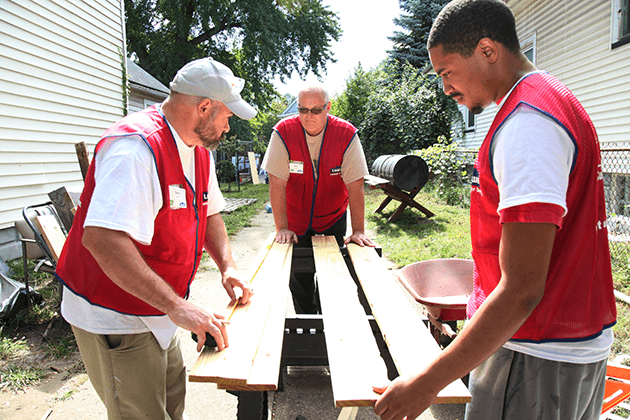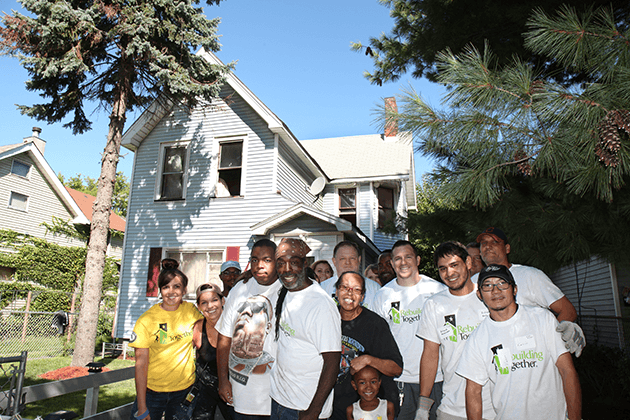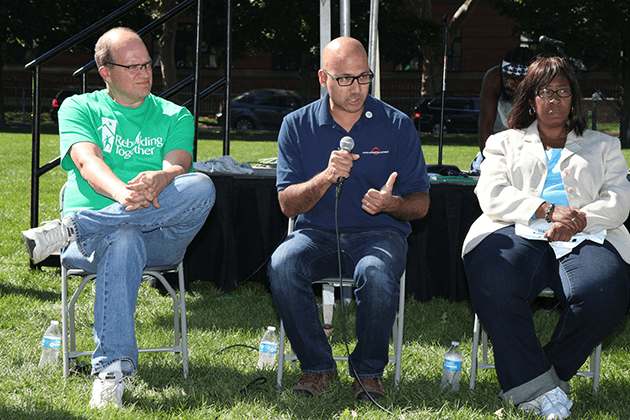 ---
2015
St. Louis
Rebuilding Together joined together with its affiliate, Rebuilding Together St. Louis, to lead its fifth annual Building a Healthy Neighborhood community revitalization project. The effort, supported by lead partner Lowe's and 275 of its Lowe's Heroes employee volunteers, was held in St. John, a small community in St. Louis County, October 8–10, and provided more than $760,000 in market value back to the community.

Nearly 500 community and corporate partner volunteers joined together to provide critical repairs for 14 homes and to revitalize a neighborhood community space. The majority of homeowners impacted are longtime members of the St. Louis community and range in need of support. Volunteers participated in a variety of repairs including flooring repairs and replacement, weatherization repairs, roof and handrail replacements, accessibility modifications, painting, landscaping and other major home rehabilitations.
In October 2015, Nearly 500 community and corporate partner volunteers joined Rebuilding Together for the 5th annual Building a Healthy Neighborhood project in St. Louis. Volunteers repaired 14 homes and revitalized a neighborhood community space.