Programs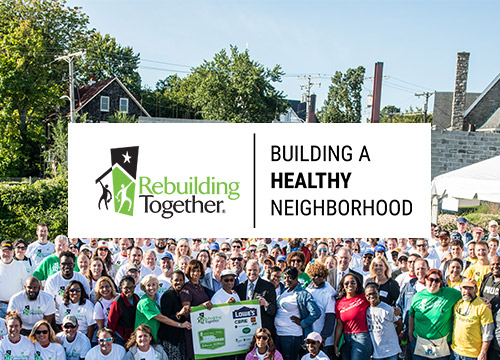 Building a Healthy Neighborhood
Through Building a Healthy Neighborhood, Rebuilding Together adopts a deeper and longer-term focus at the neighborhood level. Building a Healthy Neighborhood is a partnership between Rebuilding Together, residents and community stakeholders to revitalize neighborhoods with safe, healthy, affordable, homes and community spaces that are accessible for all. We make a multiyear commitment to a target neighborhood or area and coordinate with partner organizations to improve the health and safety of homes and strengthen community infrastructure through the revitalization of parks, schools, community centers and nonprofit facilities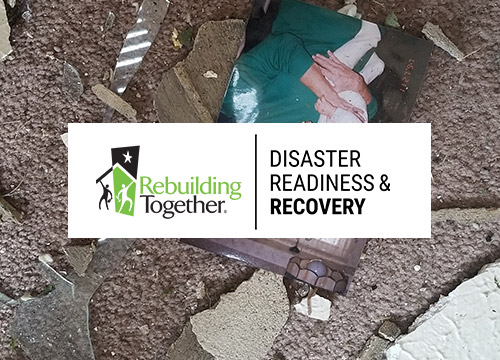 Disaster Readiness and Recovery
With natural and man-made disasters on the rise, Rebuilding Together helps neighbors in time of crisis to rebuild their homes and lives. Rebuilding Together's Disaster Readiness and Recovery program offers disaster mitigation, preparedness, response and long-term recovery support to help families and communities affected by natural disasters to rebuild their homes and lives.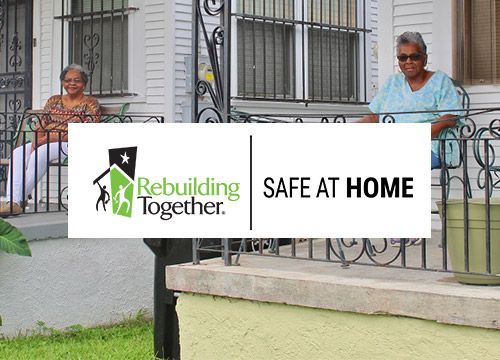 Safe at Home
According to AARP, nearly 80% of older adults would prefer to stay in their current homes as long as possible. Most of the existing housing stock in the United States is not designed to accommodate the physical and cognitive changes that come with age.
Safe at Home provides home modifications for older adults and people with disabilities to improve accessibility, reduce falls, increase independence and facilitate aging-in place. Safe at Home is designed to improve aging-in-place outcomes for low-income older adults through the modification of their home environment to meet their specific needs.
Safe at Home serves veterans and their families through Veterans at Home. Too many Americans who once wore our nation's uniform, and sacrificed for our country, now live in substandard housing and are at severe risk of homelessness. The need for sustainable, safe and healthy housing for veterans is dire. Veterans at Home provides home modifications and repairs to veterans and their families to improve safety and accessibility, increase independence and facilitate aging-in place.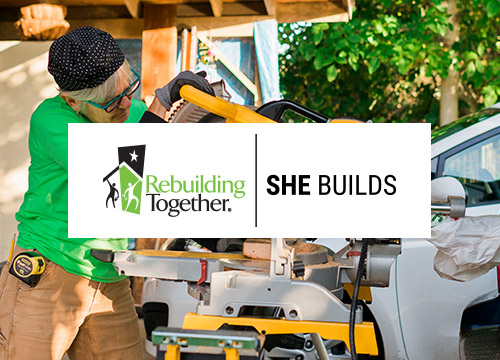 She Builds
According to the National Women's Law Center, more than one in seven women and more than one in five children live in poverty. More than half of those children live in families headed by women, and most of these women don't have a spouse's income to rely on to support their family. Together we can increase the health and safety of their homes, and empower women to become change makers in their communities.
Women-led and women-focused, She Builds provides critical repairs for women-headed households and women-focused community spaces to enable women to maintain safe and healthy homes, make a difference in their communities and build a supportive community network. Participants come to the builds with a myriad of experiences and skills to share and learn from each another.