Programs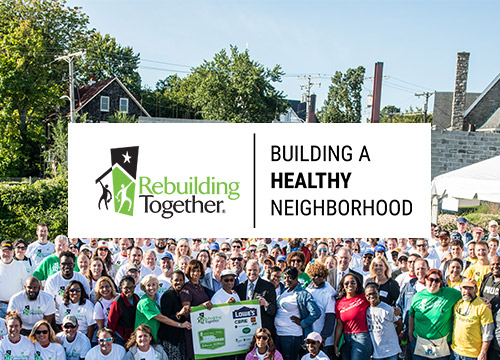 Building a Healthy Neighborhood
Through Building a Healthy Neighborhood, we adopt a deeper and longer-term focus at the neighborhood level.
Building a Healthy Neighborhood is a partnership between Rebuilding Together, volunteers, neighbors, community leaders and local organizations to revitalize neighborhoods with safe, affordable, accessible homes and thriving community spaces. Affiliates make a multiyear commitment to a target neighborhood or area and coordinate with partner organizations to improve the health and safety of homes and strengthen community infrastructure through the revitalization of parks, schools, community centers and nonprofit facilities.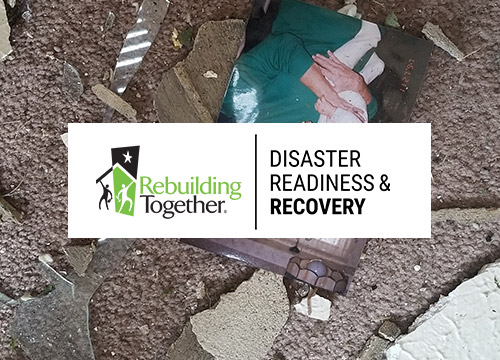 Disaster Readiness and Recovery
With natural and man-made disasters on the rise, Rebuilding Together helps neighbors in time of crisis to rebuild their homes and lives.
Rebuilding Together's Disaster Readiness and Recovery program provides disaster mitigation, preparedness, response and long-term recovery support to help families and communities affected by natural disasters to rebuild their homes and lives.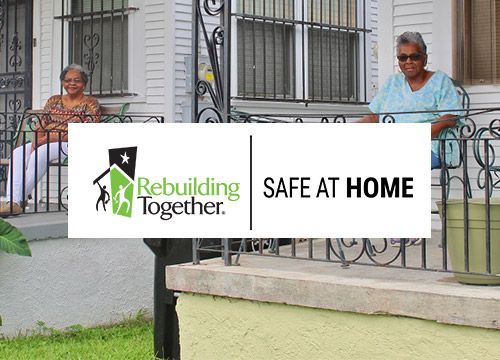 Safe at Home
Seventy-six percent of households served by Rebuilding Together have a resident over the age of 65, many of whom have mobility issues. Safe at Home helps older adults remain safe, healthy and independent in their homes and communities for as long as possible.
Safe at Home serves veterans and their families through Veterans at Home.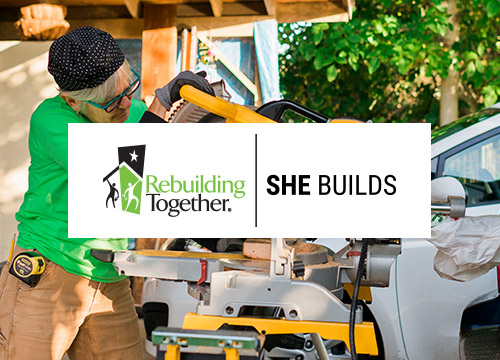 She Builds
According to the National Women's Law Center, more than one in seven women and more than one in five children live in poverty. More than half of those children live in families headed by women, and most don't have a spouse's income to rely on to support their family. Together we can increase the health and safety of their homes, and empower women to become change makers in their communities.
Women-led and women-focused, She Builds, provides critical repairs for women-headed households and women-focused community spaces to empower women to maintain safe and healthy homes, make a difference in their communities and build a supportive community network. Participants come to the builds with a myriad of experiences and skills to share and learn from each another.