$1.3 million Lowe's Donation Serves Homeowners Nationwide
January 27, 2022
Rebuilding Together continues to find innovative ways to serve homeowners throughout the pandemic, with support from long-time partners like Lowe's. Thanks to their generous donation of $1.3 million in gift cards last year, Rebuilding Together affiliates nationwide were able to increase their capacity to serve homeowners and revitalize communities.
Rebuilding Together affiliates across the country used the gift cards to purchase building materials, tools and supplies to complete essential home repairs for neighbors in need, including veterans, older adults and individuals impacted by the pandemic and natural disasters. These repairs focused on improving the safety, health and accessibility of homes.
"With the cost of building materials rising, these gift cards were vital in assisting us with affording the cost of several of our homeowner projects."
- Brad Wiese, Executive Director of Rebuilding Together Platte Valley East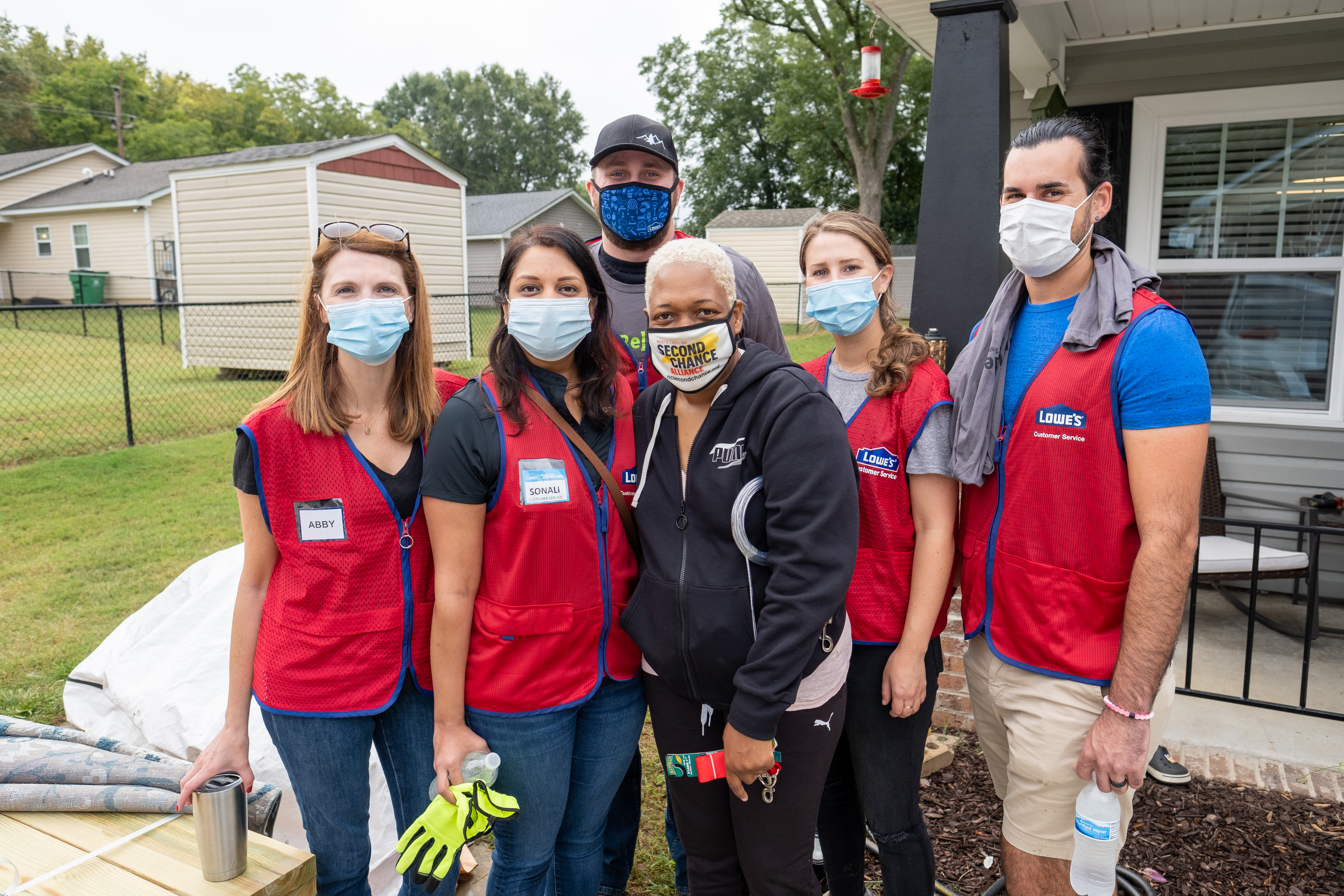 With the support from Lowe's, Rebuilding Together Portland purchased supplies to serve homeowners through their year-round Safe and Healthy Repair Program. On National Rebuilding Day they installed grab bars for older adults at risk of injury and people with disabilities, removed moss from roofs to prevent leaks and mold, sealed gutters to prevent leakage and dry rot, installed light fixtures both inside and out to improve home safety and more.
Rebuilding Together Platte Valley East used their gift card to purchase supplies for their ramp program, which makes homes accessible for homeowners, sheeting for roof repair and materials for window installations to ensure safe, well-ventilated and thermally controlled homes through their weatherization program.
Throughout the pandemic, following stay-at-home orders was difficult for many neighbors who did not have safe and healthy housing. Lack of access to functioning cooking appliances and safety equipment added another layer of complexity. Rebuilding Together DC-Alexandria used their gift card to purchase appliances for neighbors in need. With new stoves, refrigerators, smoke detectors and other appliances, homeowners were able to cook meals safely at home and regain additional independence.
We appreciate Lowe's continued commitment to Rebuilding Together's mission. Since 2007, Lowe's has contributed more than $20 million to Rebuilding Together.
We look forward to continuing our collaborative partnership this year as we work towards safe homes and communities for everyone.