Helping a local grocery store continue to serve the community
July 30, 2021
As a trusted community partner providing critical home repairs in St. Louis for more than 25 years, Rebuilding Together St. Louis often talks with neighbors about other concerns and challenges in addition to their need for home repairs. Increasingly over the years, our neighbors have told us about lack of affordable, healthy grocery stores nearby.
Unfortunately, many neighbors living in some St. Louis city neighborhoods live in food deserts. A food desert is a geographic area, typically low-income, where residents have limited to no convenient options for securing affordable, fresh and healthy foods.
According to the U.S. Department of Agriculture, an estimated 53.6 million people live in low-income neighborhoods located more than one-half mile from the nearest grocery store. In some cases, grocery stores are up to 10 miles away, and often access to public transportation is limited.
Fortunately, St. Louis is blessed with a number of organizations addressing this challenge in our City. Recognizing that access to affordable, healthy food is essential to a thriving neighborhood, City Greens Market opened its doors in the basement of a local church in 2008. The mission of City Greens Market is to provide access to fresh, quality and affordable produce to neighbors, to promote healthy living, to provide a safe and comfortable space for neighbors and to interact and to support local farmers. Today, City Greens Market serves one thousand individuals and is a fixture in the community. It is the only centrally located grocery store in the Forest Park Southeast neighborhood and offers easily accessible, healthy food choices.
At the beginning of the COVD-19 pandemic, City Greens Market struggled to stay in business. Considered an essential service, they decided to stay open to ensure neighbors still had access to healthy food. They implemented new procedures to help keep employees and shoppers safe and began offering delivery services for vulnerable neighbors.
As a nonprofit, City Greens relies solely on community support to continue providing services. When they reached out to Rebuilding Together St. Louis, the market was showing signs of disrepair; staff worked around shelves that weren't secure and could easily topple, the refrigerators weren't reliable and frequently tripped the electrical system and there was a lack of surface space to pack grocery bags.
With support from Republic Services, we were able to replace their refrigerators and upgrade their electrical system and install new shelving. Last week, we came together as a community to celebrate the newly renovated space.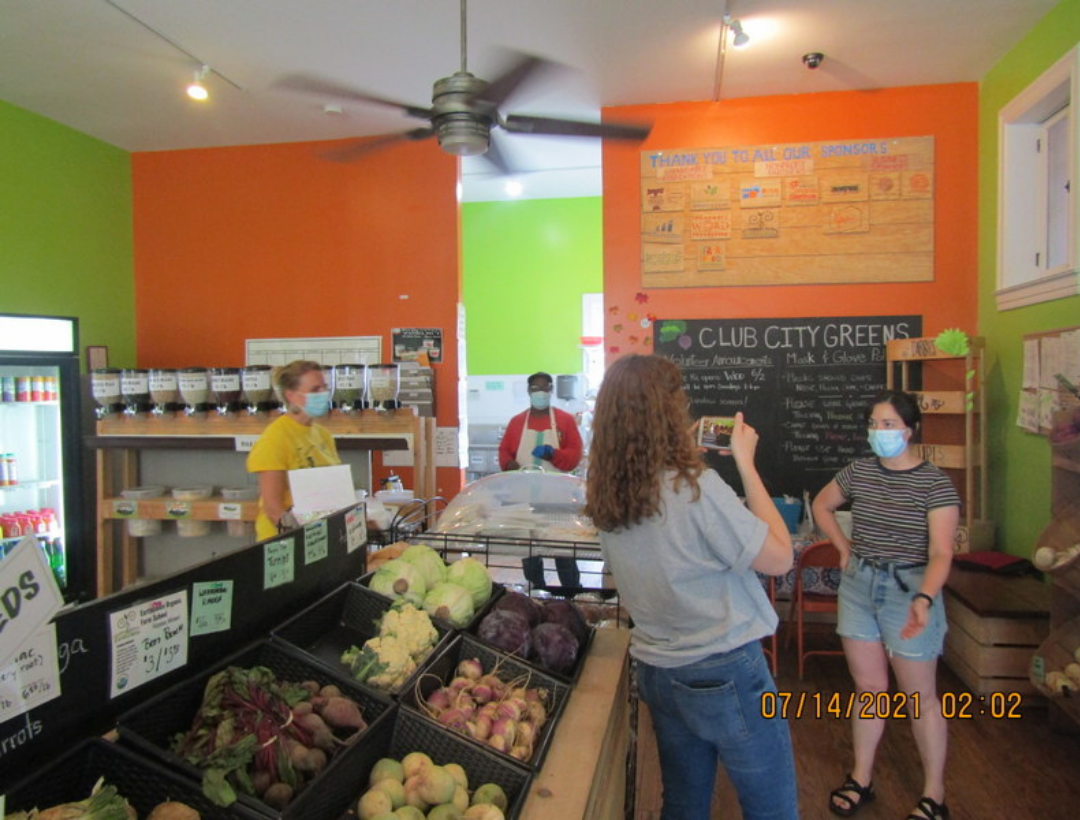 The repairs have allowed City Greens Market to significantly reduce the risk of loss of products due to faulty wiring and old equipment, provide customers with an improved shopping experience and most importantly, continue to provide equitable access to neighbors in the Forest Park Southeast neighborhood.
The project was funded by Republic Services' Committed to Serve initiative, which was launched in spring of 2020 to help support Republic's employees, customers and communities through the pandemic. Through Committed to Serve, the Republic Services Charitable Foundation has partnered with Rebuilding Together affiliates to support neighborhood revitalization efforts directly impacting local small businesses in need due to COVID-19.