Interview: Claire Oatey, Once a [Re]Builder, Always a [Re]Builder
March 19, 2021
Recently named one of Wenatchee Valley Business World's "30 under 35" honorees, Claire Oatey is an impressive nonprofit leader in her community. Claire currently works as director of community grants for the Community Foundation of North Central Washington but got her nonprofit start as a [Re]Builder with Rebuilding Together Seattle. "One of my proudest moments early in my career was overseeing a large two-day neighborhood revitalization event during my time as the interim director of programs at Rebuilding Together Seattle," she says. We talked to Claire about her time with Rebuilding Together, what our work means to her and what she is doing now.
What was your role at Rebuilding Together Seattle? What did you learn and take with you to other roles?
I actually started out as an intern with Rebuilding Together Seattle right out of college! I worked with neighbors to fill out their applications, assisted with fundraising events and presented to various community stakeholders to get the word out about our services. I was very lucky to be there right as Rebuilding Together Seattle was growing and was offered a staff role soon after. About a year after that, our director of programs went on maternity leave and I had the incredible opportunity to take on her responsibilities while she stepped away. I managed the client application process, volunteer coordination, our various rebuilding programs and I also had the pleasure to supervise two interns and our AmeriCorps member. Our executive director, Margie Thirlby, was an incredible leader. Margie believed in her staff and made professional development a high priority. She continuously offered me new challenges and additional responsibilities to help me learn and grow in my role. Each opportunity helped build my confidence and directly impacted my ability to tackle complex projects in future jobs. Our entire staff was very close and supportive of one another throughout my time with Rebuilding Together Seattle.
Could you tell us about the two-day neighborhood revitalization event you planned? What kind of projects were completed?
Back in 2012, Rebuilding Together Seattle partnered with Lowe's for our neighborhood revitalization event in South Beacon Hill. We had over 100 volunteers who helped restore five homes, build a new playground and give out weatherization kits to neighbors in the community. It was a busy couple of days, but the positive energy was palpable! I remember as we were wrapping up the project on the second day, a group of volunteers walked past an older neighbor's home in need of some yard work. With the neighbor's permission, they immediately set to work, pulling weeds and sprucing up the yard. It was awesome to see that, especially after the volunteers had already put in a full day of hard work.
Another memory that stands out was the ribbon cutting ceremony for the new playground. Our Washington state Representative Bob Hasegawa also attended which was particularly special, because he is a lifelong Beacon Hill resident. I'll never forget the feeling of unveiling the new playground and the excitement as the neighborhood kids ran over to play on all the fun new equipment.
Why do you think Rebuilding Together's work is important?
Every person should be given the opportunity to live in a safe and healthy home. I love the relational aspect of Rebuilding Together's work–it brings the community together to address housing issues and by doing so, connects neighbors to neighbors. The strong relationships that develop during the process of repairing a home (or sometimes an entire neighborhood) ensured the work did not feel transactional, but actually felt transformational for everyone involved.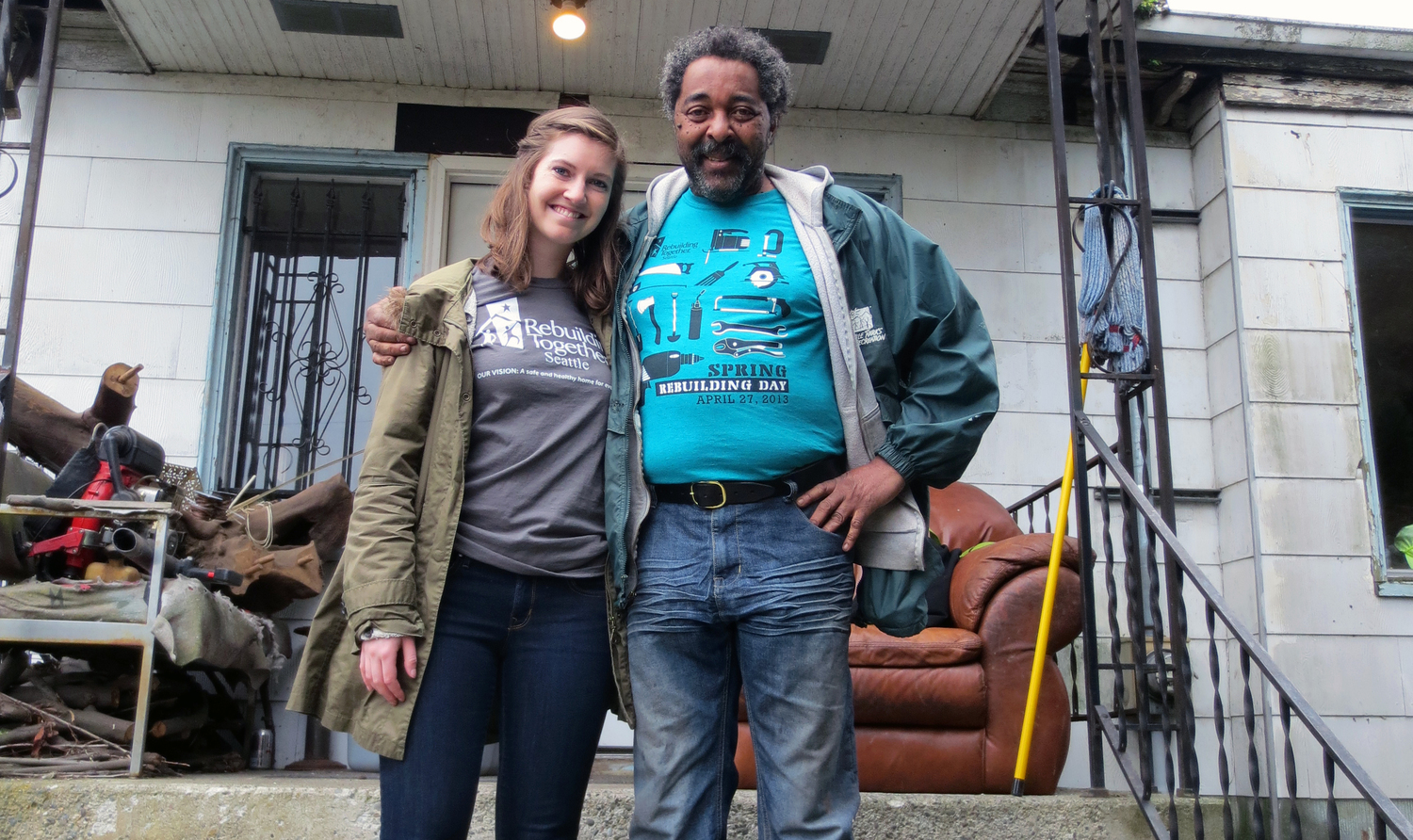 What are you doing now?
After leaving Rebuilding Together Seattle, I went on to work for an animal welfare organization in Denver where I trained and onboarded hundreds of volunteers who worked at our three animal shelters, and then to lead business operations for an early childhood program in rural Colorado, in charge of budgeting and grant writing.
I moved back to Washington in 2017 and began in my current role as the director of community grants at the Community Foundation of North Central Washington. I facilitate the competitive grant programs that distribute about $500,000 each year to nonprofit organizations in our rural, three-county region. I also manage the foundation's Nonprofit Practices Institute to provide professional development and capacity building opportunities for nonprofit leaders.
I directly attribute any success I've had in my career back to my time with Rebuilding Together Seattle, which allowed me to touch all aspects of nonprofit work from volunteer management, working with clients, outreach and marketing, fundraising and collaborating with our amazing board of directors. It was a really special time in my life and I'll always be a huge supporter of Rebuilding Together's vision of safe homes and communities for everyone.
Learn how you can get involved in your community this April, National Rebuilding Month, by visiting www.rebuildingtogether.org/nrm.