Our Experience at the AmeriCorps LEAD Conference
July 31, 2023
Rebuilding Together welcomes more than 30 AmeriCorps members annually to join them on their mission to repair homes, revitalize communities and rebuild lives. AmeriCorps members are crucial to the success of Rebuilding Together's programs as they take on a variety of critical support roles within the communities and locations they serve. An AmeriCorps term with Rebuilding Together allows individuals to gain professional nonprofit experience and impact the lives of neighbors through hands-on home repairs and modifications. AmeriCorps members also have the ability to travel to national Rebuilding Together events to learn from and network with other AmeriCorps members and nonprofit professionals.
This June, Rebuilding Together's AmeriCorps members attended a five day conference in Denver, CO--the 2023 AmeriCorps LEAD Conference. The purpose of the LEAD Conference was to bring together AmeriCorps members from across the nation to "learn, engage, accelerate and develop" with one another. Myself and my fellow AmeriCorps member, David Du, wrote about our experiences at this year's LEAD Conference below!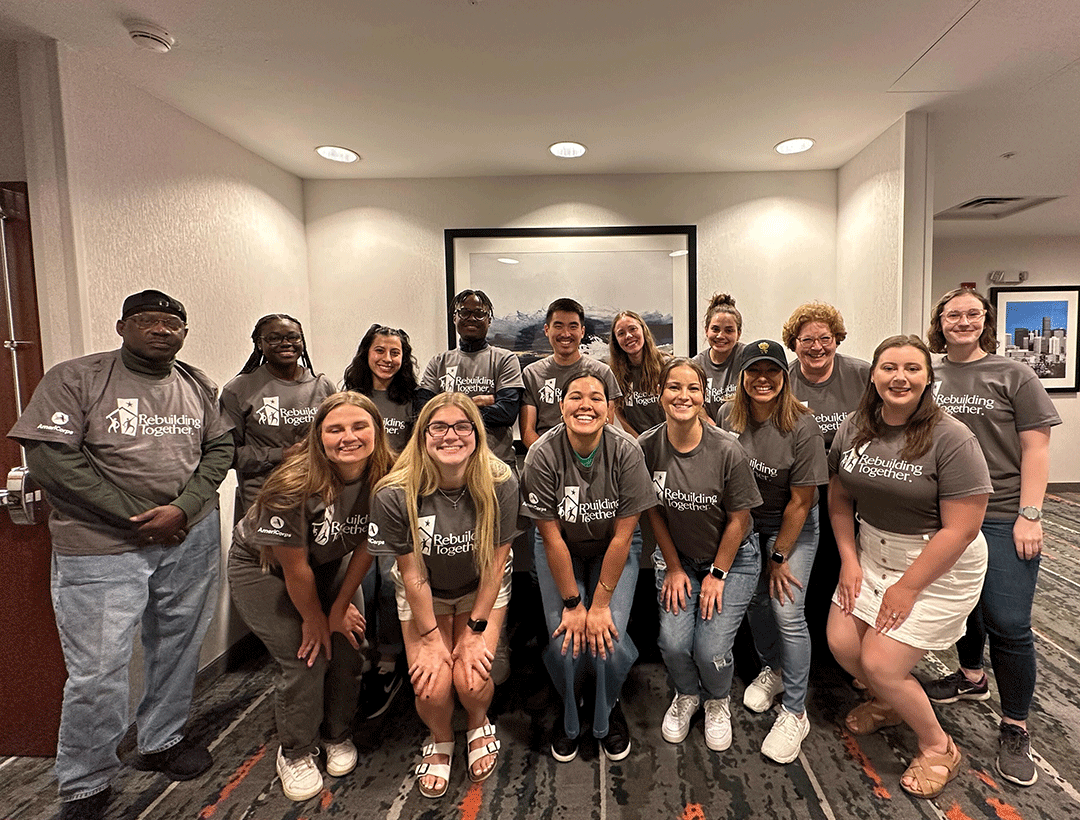 Kealohilani Myers-Rosa, Rebuilding Together Seattle
"The 2023 AmeriCorps LEAD Conference provided a great opportunity to meet with fellow AmeriCorps members, learn about other affiliates, learn about the great work being done across the country and hear from leaders in the housing industry. As my AmeriCorps term is coming to an end soon, this conference helped me to reflect on my time with Rebuilding Together, the skills I have developed, how to utilize those skills in future career opportunities and my personal career goals.
A highlight of the LEAD Conference for me was being asked to do an Instagram story takeover for the Rebuilding Together national Instagram account. I really enjoyed creating content as it also allowed me to interact with the other AmeriCorps members and learn more about their experiences.
The LEAD Conference brought together people from across the nation--west coast to east coast! The greatest part about the conference was meeting my fellow AmeriCorps members and learning about the work they do and their backgrounds. Our time together did include some unforeseen challenges, but our ability to connect with each other and work through the challenges made this trip a great one."
David Du, Rebuilding Together Peninsula
"The LEAD Conference was the first in-person event that involved AmeriCorps members from all over the country since I started last September 2022. It was also my first time visiting Denver, CO. Consequently, I was super pumped for the conference. Not only did I make friends of a lifetime, I also learned a lot through the different speakers that were invited to the conference. I learned, for example, about housing inequality in the Denver area through a speaker from the Denver Metro Fair Housing Center. I also learned about cultural competency after engaging in an interactive session conducted by the Denver Training Group. In addition, it was great to hear from AmeriCorps alumni members who have served with Rebuilding Together Colorado or are living in the Denver area today. Interestingly, I found out that one of the alumni members who spoke during the conference actually did her term at Rebuilding Together Peninsula, which is the affiliate that I serve with--what a coincidence!
Being able to explore a city that I'd never been to before for free while serving as an AmeriCorps member is something I never thought I would be able to do. However, it happened, and this conference is probably the highlight of my entire term. I was able to meet and make so many new friends who come from all walks of life. Although I'd "met" a couple AmeriCorps members from other affiliates virtually, meeting them in person was just not the same as online and it really allowed for more interesting conversations. Not to mention all the activities we did together—from trying out different restaurants in Downtown Denver, to hiking at a gorgeous national park, to going to a Colorado Rockies baseball game. This was a great conference overall and I can't wait to see what the next cohort of AmeriCorps members will experience."
If you're interested in becoming an AmeriCorps member with Rebuilding Together visit www.rebuildingtogether.org/americorps.