Through Building a Healthy Neighborhood, we adopt a deeper and longer-term focus at the neighborhood level.
Building a Healthy Neighborhood is a partnership between Rebuilding Together, volunteers, neighbors, community leaders and local organizations to revitalize neighborhoods with safe, affordable, accessible homes and thriving community spaces. Affiliates make a multiyear commitment to a target neighborhood or area and coordinate with partner organizations to improve the health and safety of homes and strengthen community infrastructure through the revitalization of parks, schools, community centers and nonprofit facilities.
Formal and informal policies and practices throughout the years such as redlining, blockbusting and discriminatory mortgage practices, have drawn considerable attention to the widening gaps in income and opportunity in the United States and perpetuated inequality. The number of high-poverty neighborhoods in the United States, neighborhoods where the poverty rate is 20% or more, has increased nearly 46% since 2000, rising from 13,400 to more than 19,600 in 2017.
Rebuilding Together's experience working in low-income communities has shown us that the complex problems found in economically distressed neighborhoods require trust building and systematic, coordinated approaches in targeted communities to improve quality of life for our neighbors. Whether it is organizing community cleanups and green space enhancements, addressing safety concerns through the installation of better community lighting, enhancing accessibility at community and senior centers, promoting economic stability through workforce development and small business renovations or working directly with the healthcare community to reduce hospital readmissions – Rebuilding Together affiliates across the country are developing, implementing and participating in local strategies for collective impact.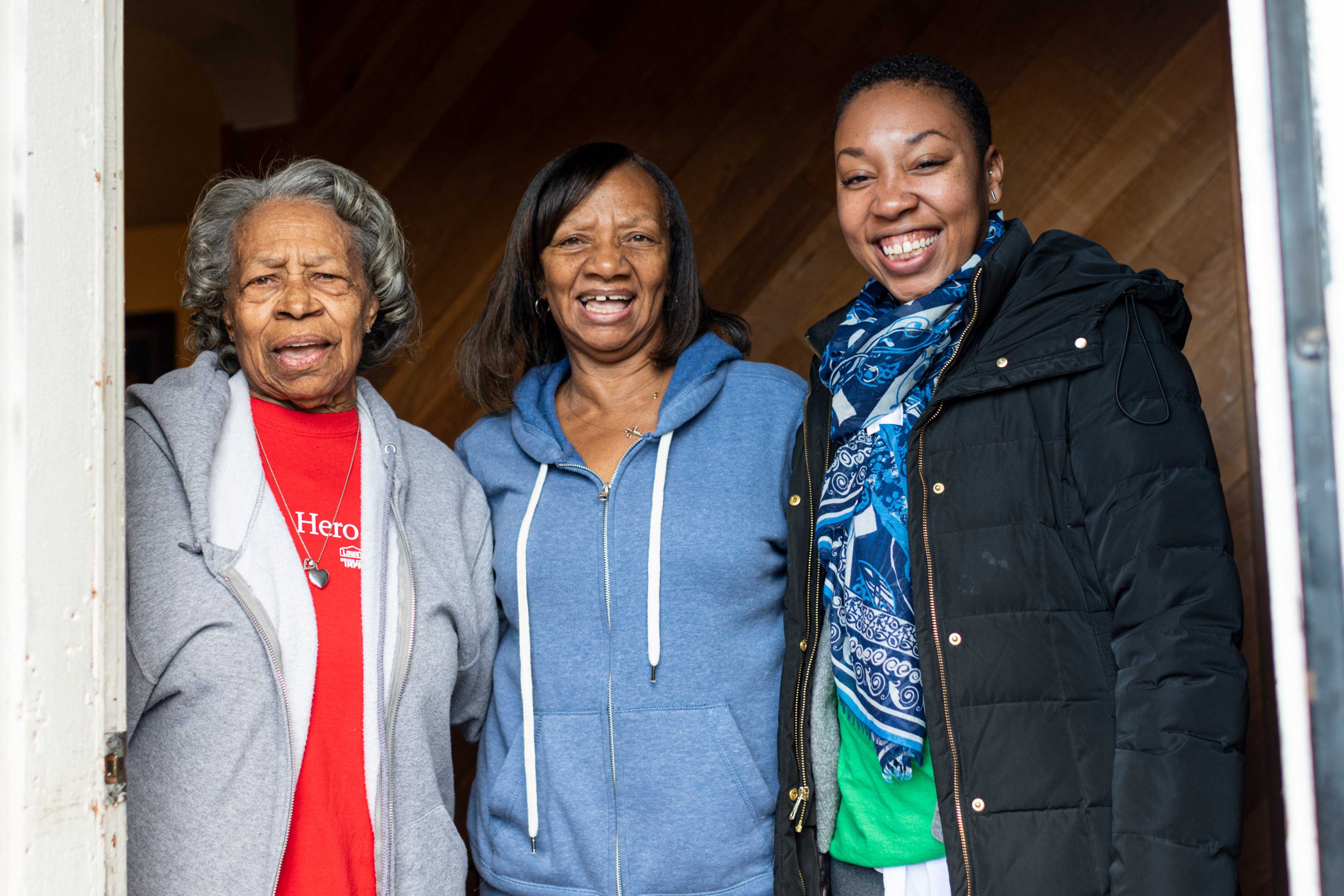 Building a Healthy Neighborhood program outcomes:
Improve the safety and health of neighborhoods. From removing mold and other asthma and allergy triggers to installing accessibility features in homes and community spaces, our work follows a proven methodology based on the Eight Principles of Healthy Housing.
Protect intergenerational wealth and equity for low-income households and stabilize neighborhoods. Our work preserves homes, the greatest asset for many low-income households, to keep families, neighbors, and communities together.
Build community connections and resiliency through innovative community-based solutions. We harness community assets and partner with local organizations and neighbors to create a sense of belonging, cultivate relationships, and improve a community's ability to respond to, withstand, and recover from adverse situations.
Building a Healthy Neighborhood in Action—Tampa Bay, FL
Focusing work in in the Sulphur Springs, West Tampa, and Lealman communities, Rebuilding Together Tampa Bay services help to preserve housing stock, create new affordable housing, and create job opportunities in those communities. Their flagship program, [Re]claiming Home Health & Safety, focuses on childhood asthma triggers. Together with their partners, the Children's Board of Hillsborough County, Florida Medical Clinic Foundation of Caring, the Tampa Bay Asthma Coalition, and BayCare Health System/St. Joseph's Children Hospital, they minimize asthma triggers through no-cost home repairs and provide home health training.
Building a Healthy Neighborhood in Action—Baltimore, MD
Since 1989, Rebuilding Together Baltimore has served 35 neighborhoods, providing home repairs to over 1,300 homes and 29 non-profit facilities, while contributing nearly $8M in estimated market value to their local neighborhoods through a community-asset based approach. Their current target neighborhood is the Govans community where they are now considered a trusted resource in the community. Along with home repair projects, they work with community residents to identify beautification needs in and around public spaces. These projects are intended to be sustainable after volunteer days and have included projects like restoring empty lots, creating community gardens and sprucing up local community centers.
Building a Healthy Neighborhood in Action—Nashville, TN
Rebuilding Together Nashville kicked off their first target neighborhood initiative in Greater Bordeaux in mid-2019. Having repaired several homes in the past several years and worked with those homeowners to gain a basic understanding of the assets and needs of the community, they decided to make a greater investment in the neighborhood. Since June 2019, Rebuilding Together Nashville has held over two dozen individual meetings with potential community partners, elected officials and community leaders, presented to two neighborhood associations, and held office hours at various community events to provide homeowners with the opportunity to ask questions and fill out homeowner interest forms.
In addition, the affiliate developed a community survey asking residents to weigh in on the strengths and needs of Bordeaux, specifically around housing and community development. During this time of community outreach, they also formed a Community Advisory Committee, made up of 8-12 self-nominated or community-nominated members who advise on home repair and community revitalization work, identify community spaces for revitalization and help the affiliate connect with community and neighborhood organizations. Rebuilding Together Nashville was able to leverage a Building a Healthy Neighborhood Innovation Grant from the national office into $700,000 in other funds and continues to build partnerships with other local funders who are excited to get involved in the new target community initiative.
Building a Healthy Neighborhood in Action—Anne Arundel County, MD
Rebuilding Together Anne Arundel County's neighborhood revitalization program is community driven. The affiliate signs a memorandum of agreement with the leadership of the neighborhood, who then helps them survey residents to find out what they want to see from the partnership, identify potential volunteers and residents who need services and other community projects that the affiliate could take on. The neighborhood association takes responsibility for the social change aspects of the initiative while the affiliate is responsible for the physical changes.
In 2018, Rebuilding Together Anne Arundel County was awarded a CBRE grant for $40K. They developed partnerships with local politicians, the local military base and other professional services and were able to complete almost $1M worth of work with the CBRE funds, including revitalizing a dog park, a community park and a barbeque area, mitigating standing water, and removing hazardous structures in the neighborhood.
Building a Healthy Neighborhood in Action—St. Louis, MO
Rebuilding Together St. Louis supports approximately 120 families every year. Clients are primarily seniors, individuals with disabilities and military veterans who are living in St. Louis City and St. Louis County. Communities of focus include but are not limited to the Greater Ville, Dutchtown, Ferguson, Jennings, Pagedale, St. John, to name a few. In 2015, Rebuilding Together St. Louis completed major repairs for a veteran's transitional facility located in St. John. During this project, they were introduced to many of the St. John government officials and elected leaders who came out to the site as a sign of support for improvements being made to their community. Later that year, with the support and dedication of St. John officials, the affiliate was able to repair the homes of 14 families located on two blocks and build a pocket park named "Unity Park" with the help of over 500 volunteers.
Building a Healthy Neighborhood in Action—Miami, FL
Rebuilding Together Miami-Dade has worked in the Leisure City neighborhood for the past four years. When they first started work in Leisure City, Rebuilding Together Miami-Dade partnered with a local nonprofit to send out letters in multiple languages to every single resident of the neighborhood to ensure that all homeowners have access to services. They now have a waitlist of clients in the neighborhood that they can access for projects on an ongoing basis. The affiliate has now become a trusted resource in the community and can connect homeowners with other organizations that serve the area.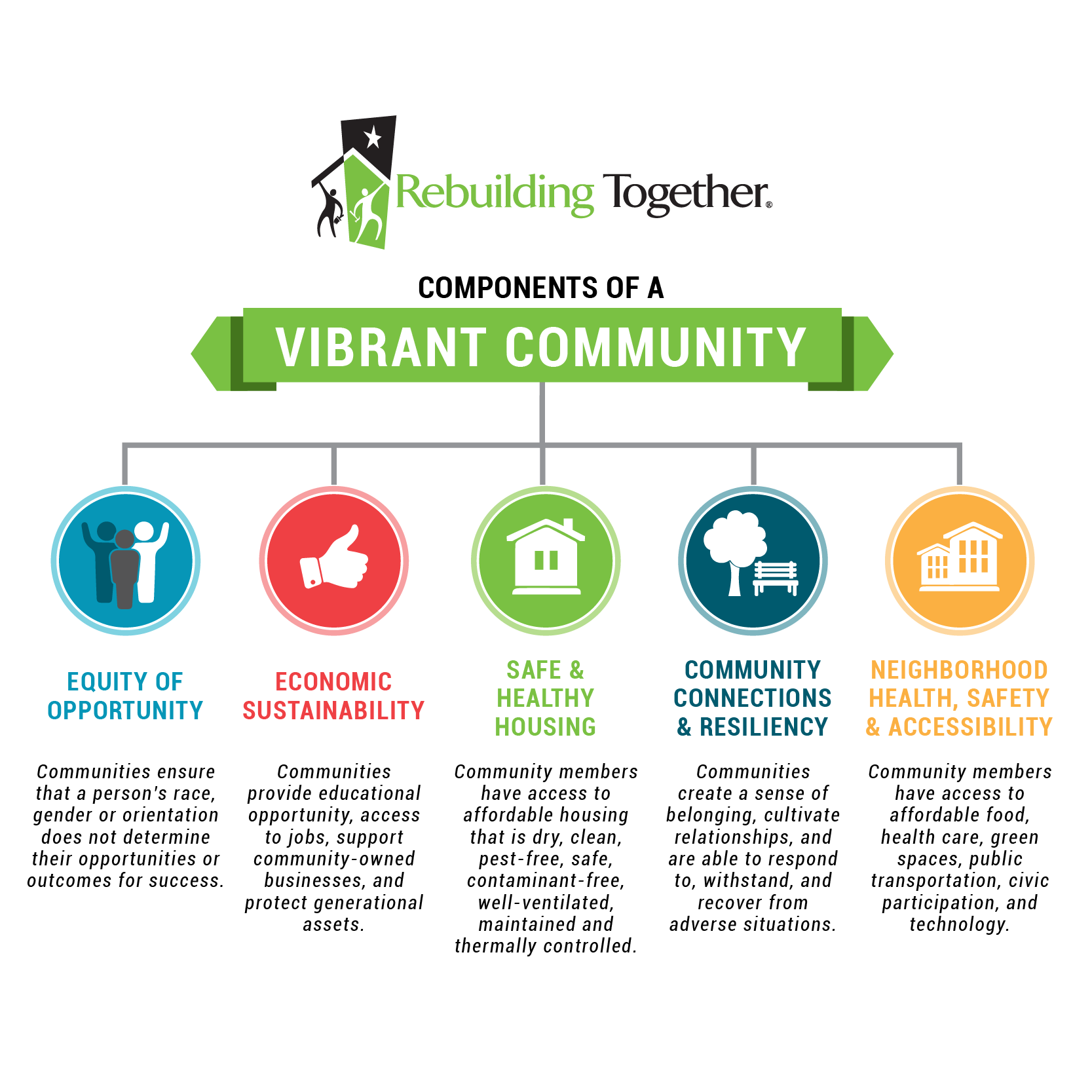 Interested in the impact of Rebuilding Together?
Learn More