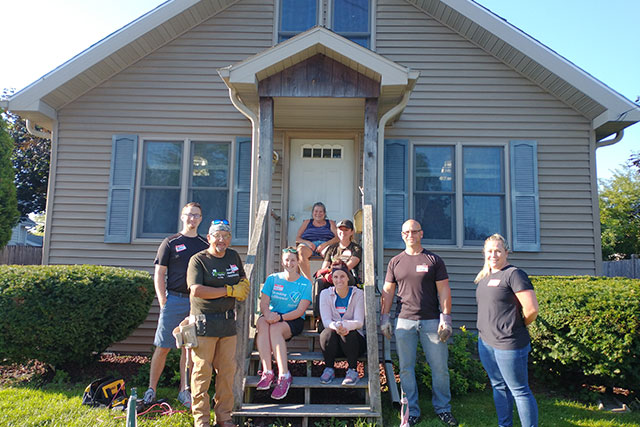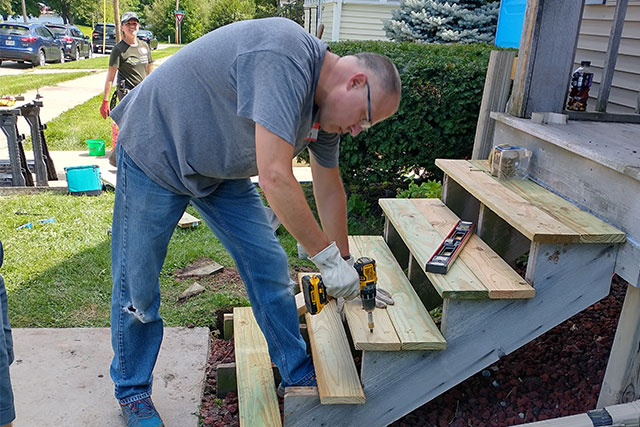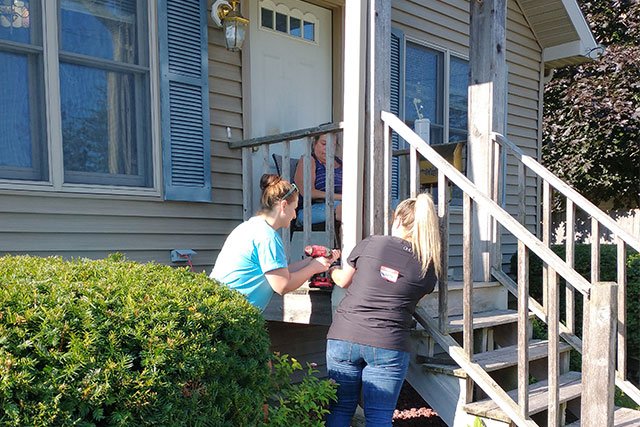 Barbara's Story: Reducing the Chance of Falls at Home
The memories of three generations fill Barbara Goyke's home in Oshkosh, Wisconsin. She hears echoes of joyful family holiday parties. She remembers the smells of the cologne her grandpa wore and the roses her grandma grew in the yard. She recalls helping grandma can vegetables from the garden. She treasures a photo taken in 1927 of her grandpa posing proudly beside his new car parked in front of his new house.
"My mom grew up in this house, and I did too. Grandma died when I was a freshman in high school. Grandpa passed away when he was 87." Barbara paused to let her emotions subside. "I'm real sentimental. That's when I decided to buy the house. "
It's an older house in an older neighborhood, a block away from the west bank of the Fox River, which bisects the city. Many of Barbara's neighbors also grew up in and later bought their grandparents' homes. As Barbara tells it, the street out front hasn't been repaved since her grandparents were alive. "They just patch it here and there."
Barbara is patched up, too. A health condition has made her bones more vulnerable to breaking. After she broke her upper back in a fall, doctors put a surgical screw in her spine and cautioned that another fall could be paralyzing. Although she was careful and didn't fall, twelve years later an x-ray revealed her back was broken again, this time in the lower part. "The doctors don't know how it happened, so they installed a titanium rod from my neck to my pelvis, and a cage, plates, pins and screws. Even so, I could still end up paralyzed if I fall."
Barbara lives alone, sleeping in her grandparents' old bedroom. Her daughter, who has her own home, keeps an eye on her mother. Caregivers come by three times a week, and Barbara has a Lifeline medical alert system at the ready.
Despite all those precautions, Barbara knew the condition of her home was a problem. The wooden steps at the front of the house were rotted. She couldn't get in and out of the bathtub. Flooring issues throughout the house put her at risk of falling. With a fixed income and disability, she couldn't get the repairs done without help.
"When you're alone and don't have anybody to fix things, it's a bad situation," Barbara said. "The lady who brings my Meals on Wheels told me about Rebuilding Together Fox Valley. I filled out the paperwork, and in just a couple of weeks they approved me. I was thrilled!"
A team of Rebuilding Together volunteers pitched in on the extensive repairs. The team put in a comfort height toilet that makes it easier to sit down and stand up. They did a cutout to convert the existing bathtub into a step-in shower. They tacked down loose carpeting, replaced the kitchen floor, fitted the basement stairs with railings, rebuilt the front steps, installed smoke and radon detectors, provided fire extinguishers and more.
Barbara's enthusiasm during the project was abundant. She showed volunteers her photo albums, shared stories about her family, and was thoroughly entertained by the whole process. "The volunteers were so kind. But I think I made them nervous by watching them work," she teased. "They took a photo with me before they left. That was really nice."
Because of Rebuilding Together's home repair projects, 68% of people who were worried about falling at home felt more confident. The repairs to Barbara's home have instilled her with similar positivity.
"I don't feel like a fall is going to happen here now. If it wasn't for Rebuilding Together, I would have had to move to a nursing home. Rebuilding Together has kept me in my home with my good memories."
"I'm hoping I can be here until I die. I wouldn't wanna die anywhere else."
Want to read more about Rebuilding Together?
Sign up to receive our email updates!