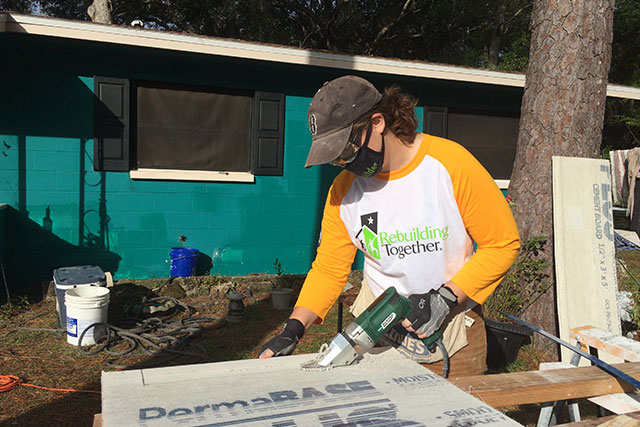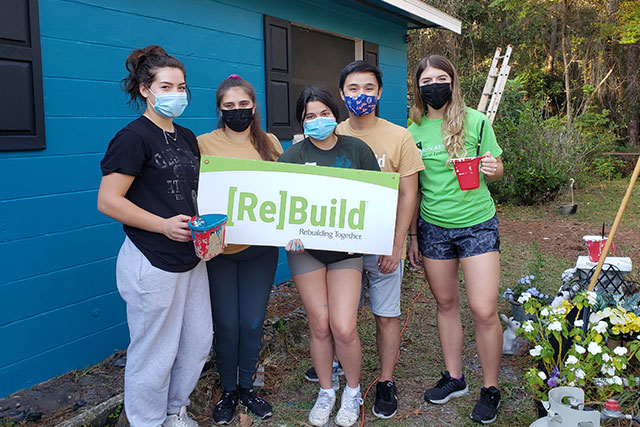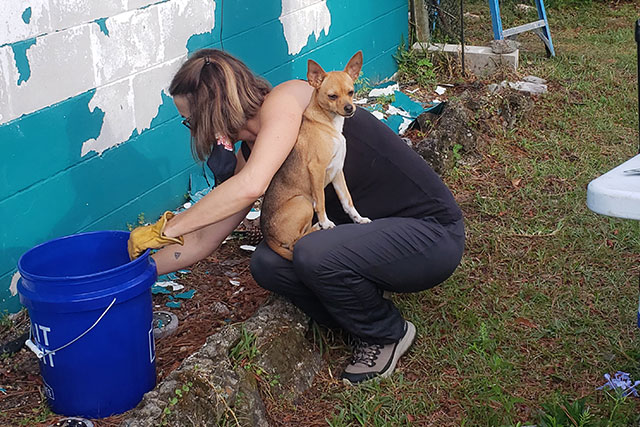 Lorene's Story: Spreading Love in the Gainesville Community
Lorene Cooper Morgan expresses love abundantly. Everyone she knows gets a generous serving of her love, especially her ten children, many grandchildren and great-grandchildren, church congregation and friends. But she also shows this love to people she doesn't know who live in her Gainesville, Florida community.
"I'm not only a neighborhood person. I'm a Gainesville person," Lorene said. "I care about everybody, no matter their color or nationality."
She holds tight to this abundant love despite the hardships she has faced. "In my life, I've had so much misery. If I just sit around, I'm stuck in my own misery. If I stay busy, it keeps my mind happy and I'm not worried about nothing."
Several years ago, Lorene and her husband Anthony realized there were a lot of things in their house that needed to be fixed that their family couldn't do on their own. At the top of the list: repairing a hole in the roof, removing dangerous trees and making the bathroom accessible to her father who lives with them and uses a wheelchair. But they couldn't afford the $25,000 a contractor said the bathroom repairs alone would cost. They were also turned down by a government program because their home is in the rural southeast part of Gainesville, outside the areas the city has targeted for redevelopment.
Then, Anthony got sick and died unexpectedly in June 2018. During his brief illness, Lorene had left her job as a cook at both the local school board and university so she could bring her husband home to care for him. Her life was upended, and she needed time to grieve. When she resumed her search for support nearly a year later, the county's housing program referred Lorene to Rebuilding Together North Central Florida, which approved her for the long-sought home repairs in early 2020.
Just when things were looking up, the COVID–19 pandemic hit, and Rebuilding Together put major indoor projects on hold for everyone's safety. Even so, volunteers and contractors were able to do some of the work on Lorene's house. They removed trees so the roof could be properly repaired, installed soffit that extends the roof to minimize how much of the heavy Florida rains hit the walls of the house and painted the exterior turquoise, Lorene's favorite color.
Lorene had endured many trials and tribulations to find support, and so waiting another year for the interior repairs was an easier burden to bear. In November 2021, Rebuilding Together called Lorene to let her know the project could restart if she was ready. She happily agreed on one condition: that she could get into her home to cook Thanksgiving dinner.
The Thanksgiving holiday was an important day to Lorene, and not just because she needed to make a big meal for her big family. Every year, she also makes Thanksgiving dinner for a group of people who are "down on their luck." She explained, "That Thanksgiving I gave out like 65 dinners. One year I gave out about 250. Every year I find somewhere to go where I can do something for somebody."
Cooking is one of the ways Lorene puts her abundant love out into the world. When she's not working as a part-time cook at a motel, where she enjoys hearing about people's travels, she regularly gives away meals in her Gainesville community.
"I was always cooking for my kids. And as they grew up and left home, I cooked for everyone else." Lorene cooks for people who are homeless, her church and kids and older people she finds out won't have a meal. She'll go fishing in the lake a few blocks from her house, and cook a fish fry for anyone who wants to come by. "Lately I've been bringing dinner to a meeting for people who were abused, since a lot of them work all day and don't have time to eat before they meet. I'm always going around town to find people to cook for."
With the Thanksgiving deadline approaching, Rebuilding Together's team tackled many interior repairs, both big and small. The bathroom work included widening the doorway, taking out an old and unsafe gas appliance, building a linen closet, adding a custom floor transition strip so Lorene's father's wheelchair could smoothly roll into the bathroom and installing a new toilet, sink, grab bars and shower big enough for someone to have help inside. All the while, the Rebuilding Together team was escorted by Lorene's long-legged chihuahua Missy, who had a habit of poking her nose into the paint cans.
These and many other repairs were wrapped up well enough for Lorene to use her kitchen for Thanksgiving and show her family the nearly completed changes to her home. When Rebuilding Together talked to other neighbors it helped, more than 84% of them felt prouder of their property after the repairs, just like Lorene.
"During Thanksgiving and ever since, everybody has been admiring the house, especially the bathroom. That bathroom is like a whole new remodel from the way it was. When Rebuilding Together came in, it was a blessing. Out of all the bad that happened, some good came out of it."
Want to read more about Rebuilding Together?
Sign up to receive our email updates!