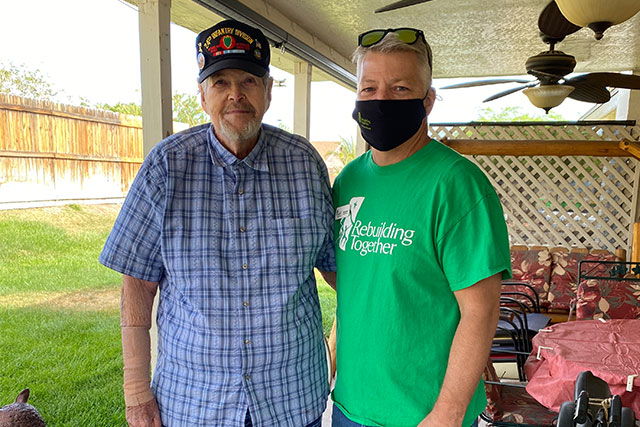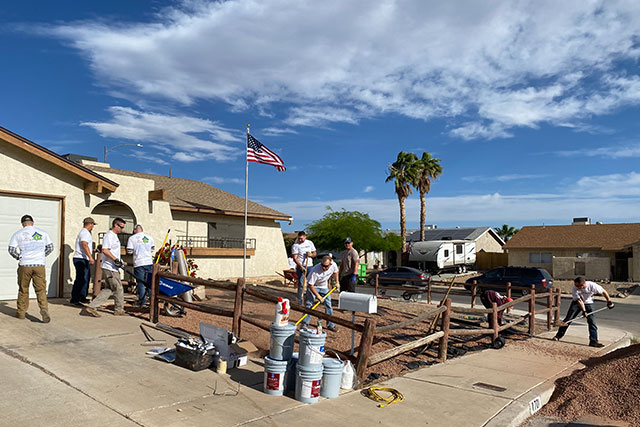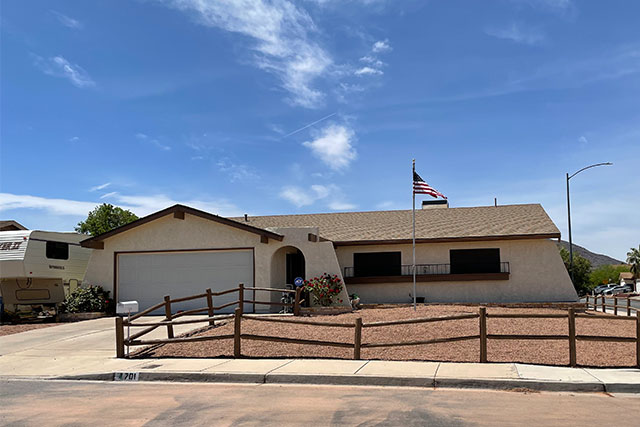 Mari and Ladd's Story: Helping a Veteran Stay Safe and Healthy at Home
Maridell Curtis, who goes by "Mari," has been the full-time caregiver for her husband Ladd since he had a stroke and was diagnosed with Alzheimer's in 2018. It's a demanding role filled with constant challenges that escalate as the disease progresses.
Though Ladd is 86, he often acts like a little kid. Even on his better days, he becomes a different person once the sun goes down. Mari needs to help Ladd shower since he can't stand on his own for long and, as she explained, "might not wash anything except his kneecaps." She has to watch him take medications, because he may drop the pills into the water glass, instead of putting them in his mouth.
"Things change every day. So I always wake up prepared for Ladd to do something different," Mari said. "You got to get up and put one foot in front of the other."
Mari is one of the millions of Americans who provide at-home caregiving for someone with Alzheimer's. Due to factors such as rising nursing home costs, the number of people with Alzheimer's being cared for at home is increasing. These caregivers and their loved ones need safe homes where they can age in place for as long as they want to.
Ladd is not familiar with his sons' houses and has trouble walking, so the family gathers at Mari and Ladd's home in Henderson, Nevada, a city about a half-hour drive from the Las Vegas strip. Mari prefers that her sons Rick and Kevin, daughters-in-law and six grandkids not spend their precious family time fixing the house, though they usually insist on doing chores when they visit. Mari is applying for adult day care for Ladd so she can do some cleaning or give herself a well-deserved break. She'd also hoped for support from veterans groups because Ladd served in the Army, but said she hasn't found much there.
"He needs a lot of help to stay healthy. I do the best I can, but it's hard. The thing of it is, there's not a lot of help out there when it comes down to it."
When Ladd fell as he was stepping out of the bathtub after taking a shower, Mari knew she needed to make changes to the house they'd lived in for more than four decades. Their son Rick was working as an IT contractor for a company that counted Rebuilding Together Southern Nevada as one of its clients. Realizing that a home repair project was just the kind of support his parents needed, he asked Rebuilding Together to see if his parents qualified, which they did.
Rebuilding Together's team of volunteers and professionals converted the bathtub into a walk-in shower, put up grab bars and installed comfort-height toilets in both bathrooms. They also replaced the old air conditioning, a necessity in the extreme Nevada heat. Mari tagged anything she wanted to get rid of, and the team put it in the project's dumpster to reduce the clutter that had accumulated over time.
Repairs weren't limited to the inside. The team scraped the eves and repainted the house exterior. They also "rocked and rolled" the dirt yard by flattening the surface and covering it with low-maintenance decorative gravel suitable for the desert climate.
Mari recalled an especially fond memory from the project: "Ladd doesn't remember much about his time in the military anymore, but he served in Korea and was at the DMZ. When I told Ladd that a lot of the Rebuilding Together volunteers were from the local Air Force base, his eyes lit up to hear military people were coming out. It was good to see brightness in his eyes."
Not long after the project finished, their son Rick quit his job and now works for Rebuilding Together Southern Nevada. "He's happy there because he likes to spend a lot of time helping other people. Both my sons are great young men."
As a result of similar home repair projects by Rebuilding Together, more than 60% of people say their physical health has improved. Mari said the work on her home has already helped her keep Ladd safe and healthy. "I don't know how I would have been able to take care of Ladd as well as I have been able to since Rebuilding Together was here. I'm so blessed they did this for us."
And, while 81-year-old Mari may not want to think about what she'll need as she gets older, these repairs mean she can also be safe and healthy at home for years to come.
Want to read more about Rebuilding Together?
Sign up to receive our email updates!