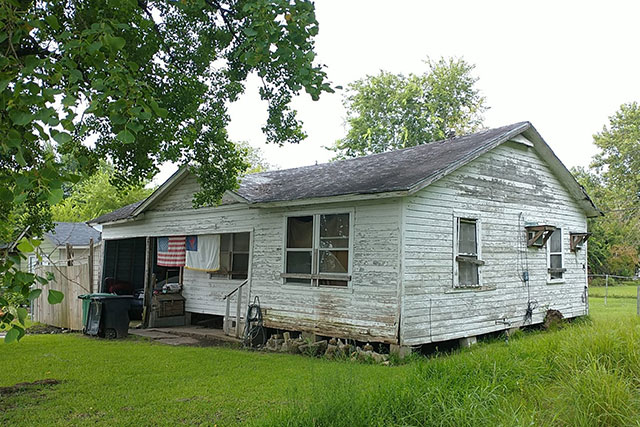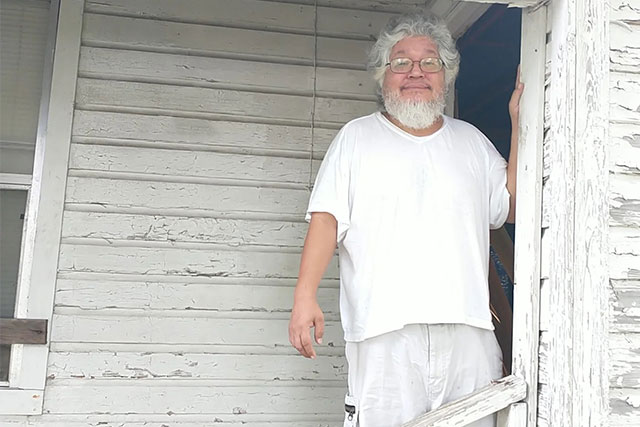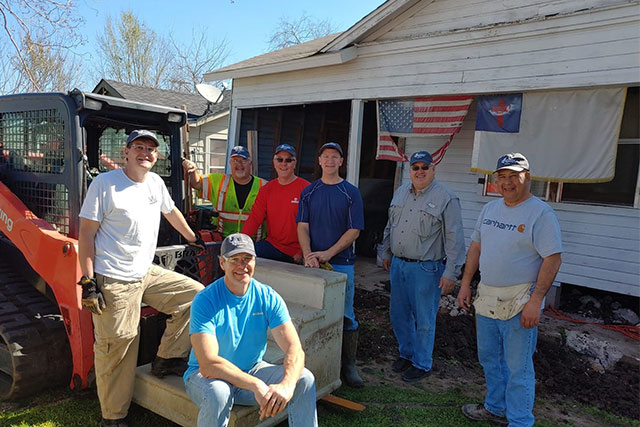 Roberto's Story: Restoring Faith After Disaster
Roberto Garza's optimism is as unshakable as his faith. He's lived in Houston, Texas, all his life and in his home in the city's South Union neighborhood for 22 years. "People call it one of the worst neighborhoods in Houston, but I don't see it." Mr. Garza is proud of his eleven years of service in the Army and Reserves. He feels fortunate to live only two miles from the Veterans Affairs hospital, where he frequently goes for doctor appointments and other services he relies on. "I get in the car, on the bus or in a $5 taxi, and I'm there," he explained.
Back in 2001, Mr. Garza got stuck at his security guard job for two days because of severe flooding from Tropical Storm Allison. When he finally made it home, he found devastation. "The flood picked up my house and put it down wrong," he said. "Everything shifted. Water was dribbling from the ceiling, and there was moisture everywhere."
Determined to make repairs, he contacted FEMA and took out the damaged sheetrock, insulation and fixtures while he waited for the government to respond. It never did. He and his cat Yesy lived in the stripped-down home, and he "bandaged it up" bit by bit as best he could.
Then in 2015, the Memorial Day Flood brought another deluge. Mr. Garza lamented, "Whatever I'd fixed got messed up again." FEMA told him to take out an SBA disaster loan and handle the repairs himself. He made some progress, but then was engulfed by the 2016 Tax Day Floods. "It wasn't horrific, but it took the bandages off my house." This time FEMA said they had no help to give.
When Hurricane Harvey blew through Houston in 2017, it nearly destroyed Mr. Garza's home. Water leaked through the damaged roof, drenched the walls, warped the floors and shifted the foundation even more.
After the hurricane, Mr. Garza's new FEMA case wound up mired in the agency's bureaucratic bowels and was eventually handed off to the Texas General Land Office. His GLO case manager never returned his calls and instead sent vague, repetitive emails every few months saying his case was being reviewed. He also started getting unsolicited offers from companies to buy what they described as his "ugly house." But the money was paltry, just $5,000 to $10,000. "I was in a moment of despair, and they wanted to take advantage of me. I threw those letters away."
Getting older and with health and mobility problems, Mr. Garza realized he needed help. "Whatever extra money I had went into the house and paying off the SBA loan. I'd replace one board a month. But boards were getting more expensive. I couldn't fix it the way it was."
Mr. Garza admitted to being the kind of person uncomfortable with asking for help. As a man of faith, he decided to pray for an answer. He soon saw a TV news story about a veteran being helped by a local nonprofit. "The Lord responded in my despair. The answer was Rebuilding Together Houston."
After Mr. Garza applied to Rebuilding Together, the organization's home inspector Jeff Wilkins came for a visit. "I just wanted the foundation straightened. Mr. Jeff said he was sure they could do more for me."
And more they did. Rebuilding Together Houston hired contractors to stabilize the foundation, restore the roof and exterior siding, rewire the house, install smoke alarms, put in all-new ceiling sheetrock and replace windows, doors and floors. The organization's Safe and Sound Services staff put in ceiling fans and air conditioners. Rebuilding Together Houston also mobilized others in the community, including volunteers from a ministry service group to paint the house, and law enforcement volunteers to build an entryway ramp.
Amid these repairs, the extreme cold of the 2021 Texas Freeze burst pipes in Mr. Garza's home. Without running water, he had to use a temporary composting toilet and buy jugs of water. When Jeff from Rebuilding Together found out, he coordinated with the nonprofit Tejano Center to fix the pipes, remodel the bathroom and kitchen and replace the rusted water heater.
Weeks after the repairs finished and four years after Hurricane Harvey, Mr. Garza finally heard from GLO. The government agency wrote in a letter that Mr. Garza's home was unrepairable, so they would tear it down and replace it. "They never even came out to look at it or talk to me. I refused. There's no way I would let anyone destroy my home. This is where my memories are."
Yesy the cat has sadly passed away, but Mr. Garza has adopted an adorable cat named Fig. They are both safe and comfortable in his home, and Mr. Garza no longer has to worry about the financial burden of all the storm repairs. When Rebuilding Together surveyed other homeowners it has helped, more than a quarter said their maintenance costs had decreased.
"The Lord has taught me you need trust. When I heard about Rebuilding Together it was hard to believe. But I trusted them, and I'm happy I did."
Want to read more about Rebuilding Together?
Sign up to receive our email updates!