Safe at Home helps older adults remain safe, healthy and independent in their homes and communities for as long as possible.
The Safe at Home program provides no-cost preventive home modifications to people with mobility issues and other disabilities to improve accessibility, reduce falls, increase independence and facilitate aging-in place. Safe at Home is designed to improve aging-in-place outcomes for low-income older adults through the modification of their home environment to meet their specific needs.
Seventy-six percent of households served by Rebuilding Together have a resident over the age of 65 and 51% have a resident with a disability, many of which have mobility issues that make it difficult to remain safely at home. According to AARP, nearly 90% of older adults would prefer to stay in their current home as long as possible. Yet most of the existing housing stock in the United States does not have accessibility features and are not designed to accommodate the physical and cognitive changes that come with age, including increased fall risk. Falls can be prevented, in part, by home modifications such as elevated toilets and improved lighting. Accessibility modifications such as stairway railings and bathroom grab bars have also been shown to reduce falls. Aging in place is also widely understood to be more cost-effective compared to nursing home and assisted living facilities. A private room or apartment in an assisted living facility is estimated to cost around $42,600 annually, on average –yet the median annual income of the clients Rebuilding Together serves is $16,000, well below the federal poverty threshold for a family of four ($25,100 in 2018).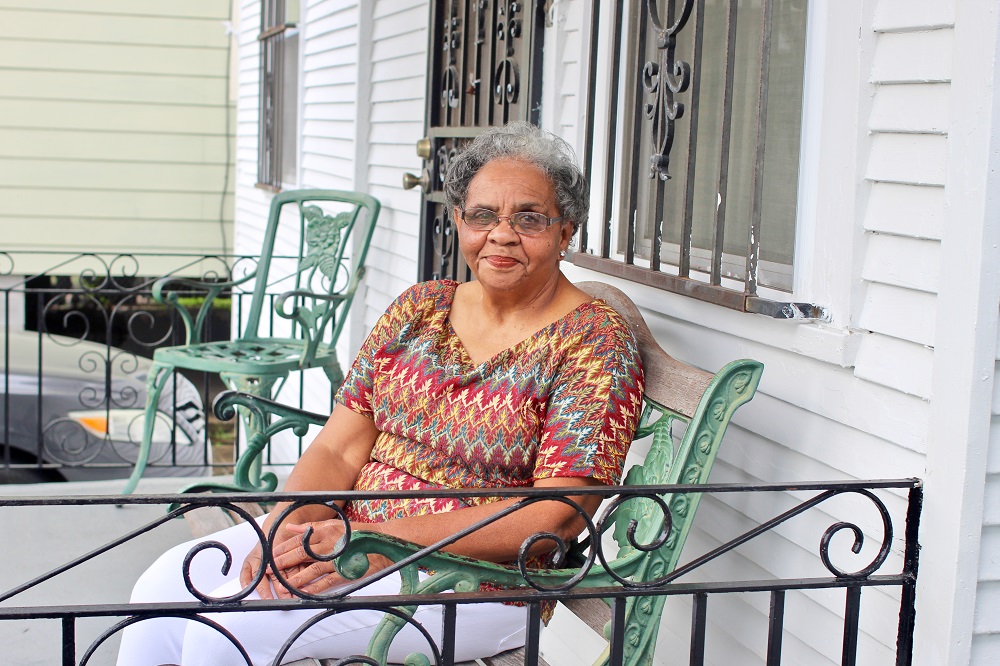 Safe at Home services:
Critical home repairs that correct hazards and impact the safety of those living in or visiting the home.
Falls prevention strategies that minimize the risk of falls in and around the home.
Accessibility modifications that address changing mobility needs and enable independence around the home.
Fire prevention strategies that reduce the risk of death or injury because of fire or smoke.
Safe at Home common repairs and modifications include but are not limited to:
Installing grab bars, handrails, vertical rails
Entry and threshold ramps, low– rise steps
Widening doorways and passageways
Modified tubs and showers
Raised toilets
Removing tripping hazards
Smoke and CO2 detector installation
Improved interior and exterior lighting.
A 2019 program evaluation conducted by an external evaluator surveyed a sample of our affiliate network's homeowners who received home repairs and home modification services demonstrated the following outcomes.
The evaluation revealed that 45% of residents served fell or had a close call in the six months before repairs; after repairs were made, nearly 70% of all respondents felt they had a "low chance" or "no chance" of falling.
The repair of their home especially helped individuals with poor health to envision themselves aging in place. 91% felt they would be able to age in place after receiving services from pilot affiliates, compared with 82% before.
Almost 9 in 10 of the most stressed neighbors served feel less stress about home repairs and maintenance.
Nearly a third of neighbors who received repairs said they found cooking and preparing meals at home easier after the repairs were completed.
Repairs made it possible for nearly 100% of residents to have safe and accessible ingress to and egress from their home.
Safe at Home in Action—Kansas City, MO
Rebuilding Together Kansas City forged strong partnerships with the local hospital system, housing agencies, falls prevention coalitions, senior services, and other nonprofits to help older adults in their community age in place with comfort and dignity. A 2018 survey of the program found that 95% of survey respondents agreed that the modifications reduced the risk of falling, 100% agreed that the modifications made them feel safer, 93% felt the modifications increased their ability to stay in their home, and 94% reported an increase in confidence after the repairs were made.
Safe at Home in Action—Redwood City, CA
Local municipalities expressed interest in Rebuilding Together Peninsula administering local home repair programs after recognizing the affiliate's strong relationships with the homeowners, expertise in case management aspects of the work, and affordability compared to other options. Peninsula's Safe at Home program serves approximately 140 homes a year by addressing minor repair needs before they become serious safety or deferred maintenance issues. The services are primarily funded with Community Development Block Grants contracts from the U.S. Department of Housing and Urban Development for 5-6 cities and the county of San Mateo.
Safe at Home in Action—Tacoma, WA
Rebuilding Together South Sound's Safe at Home program has become one of their more flexible programs, from the types of services offered, to how the work is completed, to who is engaged as a funder. The core services offered are home modifications, which include building/repairing ramps and stairs as well as installing grab bars, doorknobs, comfort height toilets and walk/roll in showers. Other aspects of the program include emergency repairs which include resolving active plumbing leaks, restoring heat and repairing faulty electrical. Safe at Home allows the affiliate to leverage volunteers, both skilled and unskilled, on home modification jobs with paid work on emergency repairs.
#SafeAtHome
Safe at Home serves veterans and their families
through Veterans at Home.
Learn More