Celebrating Black Leaders in Housing: Past and Present
February 28, 2023
Rebuilding Together is proud to celebrate Black History Month. In 1968, at the height of the Civil Rights Movement, the Fair Housing Act was signed into law. It was intended to protect people from discrimination when renting or purchasing a home, applying for a mortgage and seeking government subsidized housing assistance.
However, 55 years later, racial discrimination in housing continues to exist. Racist housing policies, like redlining, have had a long-lasting impact on communities of color and access to safe and affordable housing remains persistently unequal.
We invite you to learn about some of the many Black leaders – past and present – who have had a significant influence in our nation's housing challenges and triumphs.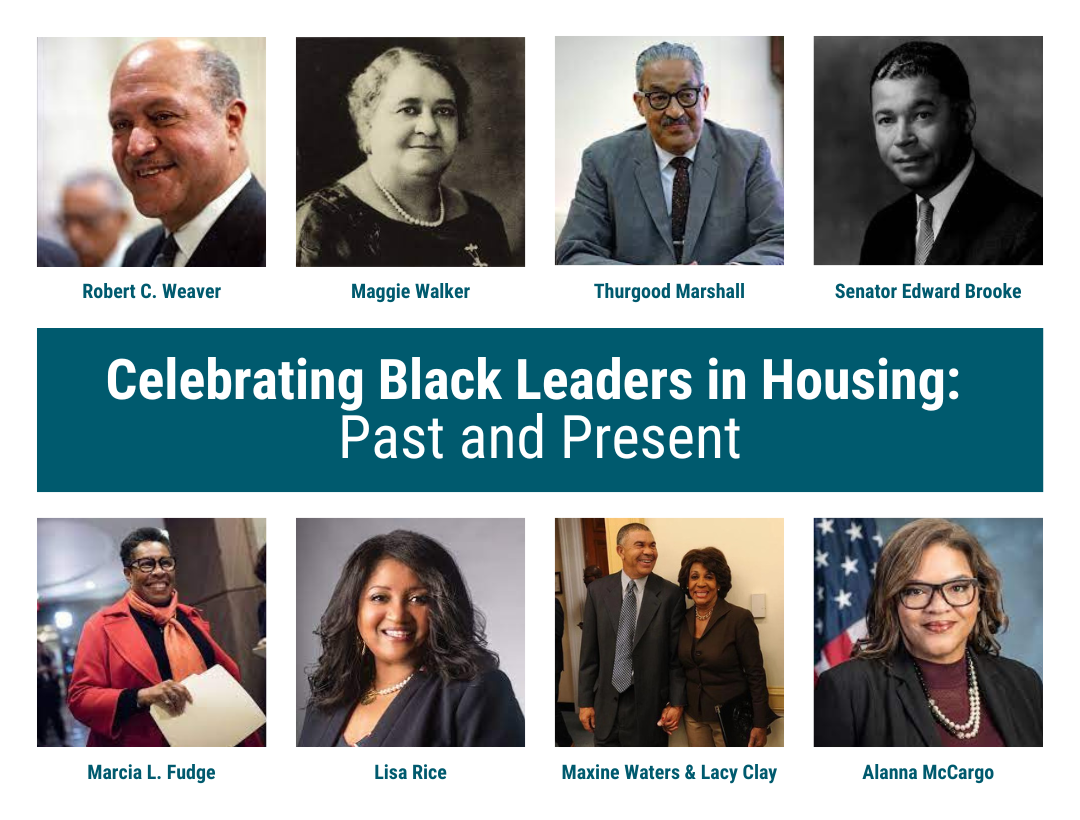 PAST
Appointed in 1966, Robert C. Weaver was the first Secretary of the Department of Housing and Urban Development (HUD) and the first Black person to be appointed to a U.S. government cabinet-level position. Prior to his appointment, Weaver earned three degrees at Harvard University, including a doctorate in economics, and held a variety of positions relating to employment and housing discrimination.
In 1960, Weaver was the board chairman of the NAACP when John F. Kennedy was running for President. Once elected, Kennedy named Weaver the director of the Housing and Home Finance Agency. At the time, it was the highest position in the U.S. government ever held by a Black person.
Most notably, as HUD secretary, Weaver expanded affordable housing programs and championed the passage of the 1968 Fair Housing Act.
Maggie Walker was one of the most influential female business leaders in the U.S. in the early 1900s. In 1903, she founded the St. Luke Penny Savings Bank in Richmond, Va., becoming the first woman to charter a bank in the U.S. St. Luke Penny Savings Bank provided Black people with reasonably priced loans so they could purchase homes and establish businesses. Walker's entrepreneurial skills transformed Black business, leaving a long-standing legacy. By 1920, the Penny Savings Bank issued more than 600 mortgages to Black families and provided employment for Black people who were once relegated to the labor industry.
In 1924, the Penny Savings Bank expanded outside Richmond and included more than 50,000 members. It later consolidated with two other large banks and is still in operation today.
In his career, Thurgood Marshall helped to undo generations of residential segregation. Marshall was an American civil rights lawyer and the first Black Supreme Court Justice. He is most known for using the courts to fight Jim Crow laws and dismantle segregation in the U.S. Marshall argued and won 29 of the 32 cases he brought to the Supreme Court, including Shelley v. Kraemer in 1948, which struck down race-based restrictive housing covenants. Winning this case, Marshall helped to undo generations of residential segregation.
Senator Edward Brooke was the first Black person elected to the U.S. Senate by popular vote in 1966. Throughout his career, Brooke recommended a series of measures to protect consumers' rights and fought to end housing discrimination. He served on the Banking, Housing and Urban Affairs Committee, where he advocated for programs to increase housing and employment opportunities for minorities living in urban areas, passed legislation to combat racial discrimination in housing and supported public housing legislation.
PRESENT
Marcia L. Fudge is the current secretary of HUD. Secretary Fudge is committed to solving our nation's urgent housing challenges and believes communities should serve people. Throughout her career, she has worked tirelessly to help low-income families, veterans and older adults realize the dream of home ownership – and the security and wealth creation that comes with it – in communities across the country.
Under Secretary Fudge's leadership, HUD published the Affirmatively Furthering Fair Housing rule that requires communities that accept federal funding to create plans to address local housing discrimination or face a penalty. The rule is intended to combat racially segregated neighborhoods and further uphold the 1968 Fair Housing Act.
We were honored to have Secretary Fudge visit Rebuilding Together New Orleans this month. On Feb. 21, she announced Rebuilding Together New Orleans and Rebuilding Together Silicon Valley will receive HUD funding to protect families from home health and safety hazards.
As President and CEO of the National Fair Housing Alliance – the only national organization dedicated solely to ending discrimination in housing – Lisa Rice leads efforts to advance fair housing principles, preserve and broaden fair housing protections and expand equal housing opportunities for millions of Americans.
Rice is a well-known housing advocate who believes fair housing intersects with all aspects of our society and is foundational to a strong economy, the prosperity of our nation and the ability of people to thrive and access important opportunities. As such, she has led many precedent-setting fair housing cases, which have resulted in the elimination of systemic discriminatory policies and practices and the expansion of fair housing opportunities.
She also helped write and pass important legislation to expand protections and housing opportunities for consumers, including the Dodd-Frank Wall Street Reform and Consumer Protection Act, the state of Ohio's anti-predatory lending statute and, in establishing the Office of Fair Lending within the Consumer Financial Protection Bureau.
Rice continues to provide extensive consultation and training services to consumers, government agencies, insurance companies, lending institutions, regulatory agencies, housing industry professionals, real estate management companies, fair housing agencies and non-profit organizations.
House Financial Services Committee Chairwoman Maxine Waters (D-Calif.) and the committee's Housing, Community Development and Insurance Subcommittee Chairman Lacy Clay (D-Mo.) have been leading advocates for housing affordability and closing the racial homeownership gap their entire political careers. Together, they have been instrumental in passing numerous bills to address fair and affordable housing and housing finance reform.
Alanna McCargo is a political appointee and president of Ginnie Mae, a government lending organization with a mission to provide low-cost financing for federal housing programs. McCargo's career in housing finance spans decades and her work has been primarily focused on how America's housing finance system can equitably and affordably serve the capital and credit needs of all households. Among her many accomplishments, McCargo has played an essential role in housing research; informing the work of nearly every policymaker in Washington, D.C., helped advance the national policy conversation around reducing racial homeownership and wealth gaps and removing barriers to accessing credit and capital and identified and developed policy recommendations for mortgage servicing and reform.