Serving Portland Throughout the Pandemic
October 29, 2020
The COVID-19 pandemic has been challenging for all of us. Everyone from families, to local organizations, to international companies-have been figuring out how to safely navigate through these unprecedented times. For Rebuilding Together Portland, it has been a challenge as well, but one worth undertaking.
Each year Rebuilding Together Portland serves over 100 neighbors through our year-round emergency repair program, the "Safe and Healthy Repair Program" and National Rebuilding Day, which is typically in April. As we all know by now, 2020 has been a year of many surprises. When the pandemic hit, Rebuilding Together Portland, along with many other Rebuilding Together affiliates across the country, made the tough decision to postpone the workday until it was safe to continue.
With no clear end of social distancing in sight, and many neighbors in need of critical repairs, we decided to host a "modified" Rebuild Day with robust safety measures in place, including: social distancing, use of the appropriate PPE, altered work scopes and a designated "Safety Captain" for each project site.
After countless hours of careful planning, preparation and coordination, our Fall Rebuild Day was underway. On September 26, 2020, over 200 volunteers from the Portland community came together to provide critical outdoor repairs to 15 homes throughout the city, changing the lives of everyone who call those houses "home."
Here are some of their stories:
Mary, 87, had just started adjusting to living alone, as her husband recently passed away. Countless repairs began to pile up, and with limited funds and mobility, Mary was at a loss for how to maintain the house she called home for decades. Thanks to Rebuilding Together Portland, Mary now has a freshly painted home with new siding, handrails to prevent falls, a safe porch to walk on and a beautiful yard.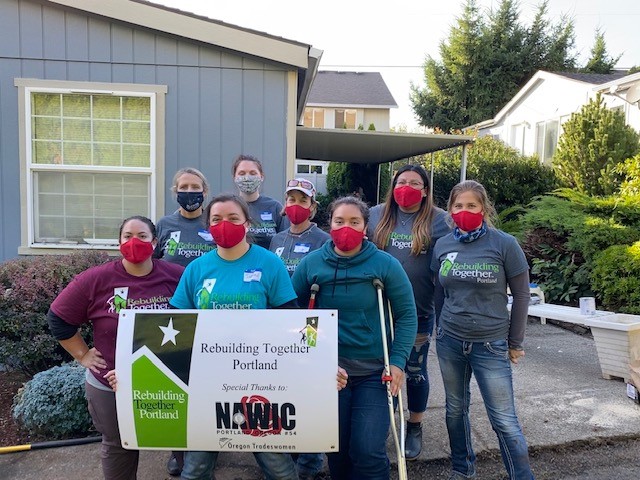 When Mark* contacted us, he had already suffered multiple injuries from falls caused by unsafe conditions in his home. He was unable to make the extensive repairs needed to continue living safely and independently. Like many older Americans, he dreams of aging in place in the comfort of his own home. With the help of Rebuilding Together Portland, that dream came true. Prior to the workday, Mark's porch stairs were rotten, his cement walkway was severely cracked-- there was debris scattered around his yard--along with other hazards. The volunteers not only completely rebuilt his porch stairs, but also poured a new concrete walkway, removed exterior debris, reattached his hanging gutters and treated his roof for moss. Now, Mark feels pride when looking at his "new" home and is thrilled to be able to continue his life there.
William* and Barbara* reached out to us because they were overwhelmed with the many repairs needed at their home. Not only was the integrity of their home at risk due to extensive rot in the siding, but also William struggled to leave his house for fear of falling on the rotted out porch. Even if he was able to get across the porch safely, descending the stairs was a daunting task due to his limited mobility. To address these issues, the Rebuilding Together Portland team performed extensive siding repair, rebuilt the porch, installed a ramp and removed exterior debris so that William and Barbara can focus on paying their bills and putting food on the table for their family, rather than worrying how to pay for the next repair.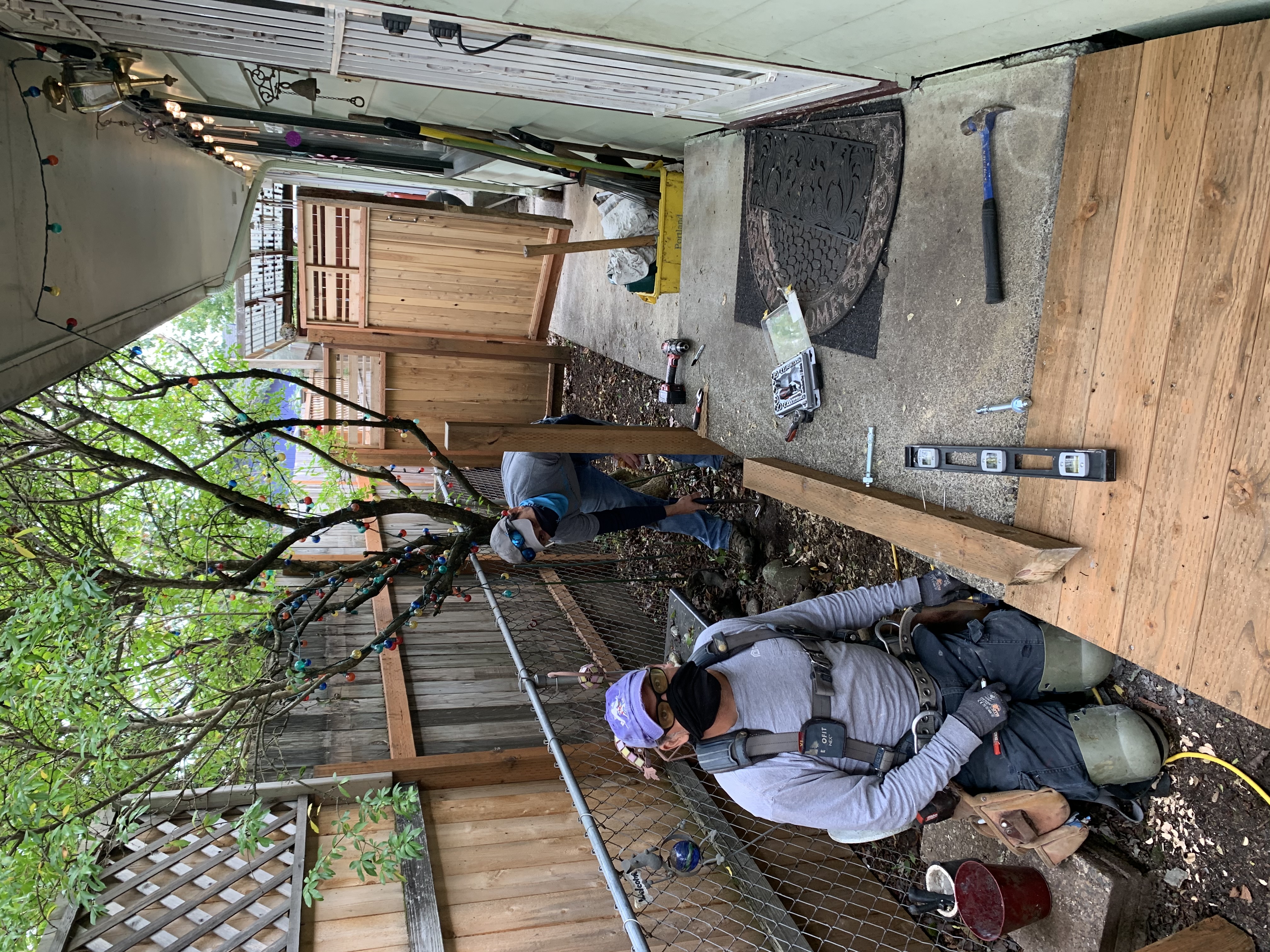 We are so thankful that we were able to complete repairs for these neighbors despite the ongoing pandemic. Our work is needed more than ever, and we have found new ways to safely serve the neighbors in our community.
Special thanks to the volunteers from the National Association of Women in Construction NAWIC, Swinerton and Truebeck Construction, who made these repairs possible.
*The names of these neighbors have been changed to protect their privacy