Kickoff to Rebuild in Tampa for Super Bowl 55
In partnership with Lowe's, the Official Home Improvement Retail Sponsor of the National Football League (NFL), Rebuilding Together Tampa Bay provided critical repairs for 30 homes in West Tampa, East Tampa, Drew Park, Orient Park and Sulphur Springs as part of Kickoff to Rebuild.
Kickoff to Rebuild is an annual Super Bowl-sanctioned event hosted by Rebuilding Together, a leading national housing nonprofit with a mission to repair the homes of people in need and revitalize communities. This year's event was led by local nonprofit affiliate, Rebuilding Together Tampa Bay, which has served the Tampa Bay area for 20 years.
While following CDC guidelines to prevent the spread of COVID-19, volunteers from Lowe's, Rebuilding Together, local contractors and community members performed home repairs, including roof replacements, mold remediation, repairing and replacing non-operations smoke alarms, installation of new flooring, interior and exterior painting, HVAC repairs, bathroom renovations, addressing water damage and more.
Our Partners
Lowe's is passionate about supporting the communities where its associates and customers live and work. As of 2021, Lowe's has donated over $3 million to Rebuilding Together, totaling donations of more than $21 million since 2007. Together, Lowe's and Rebuilding Together have worked tirelessly to improve the lives of thousands of neighbors in need and provide better access to safe and affordable housing, positively impacting communities across the country.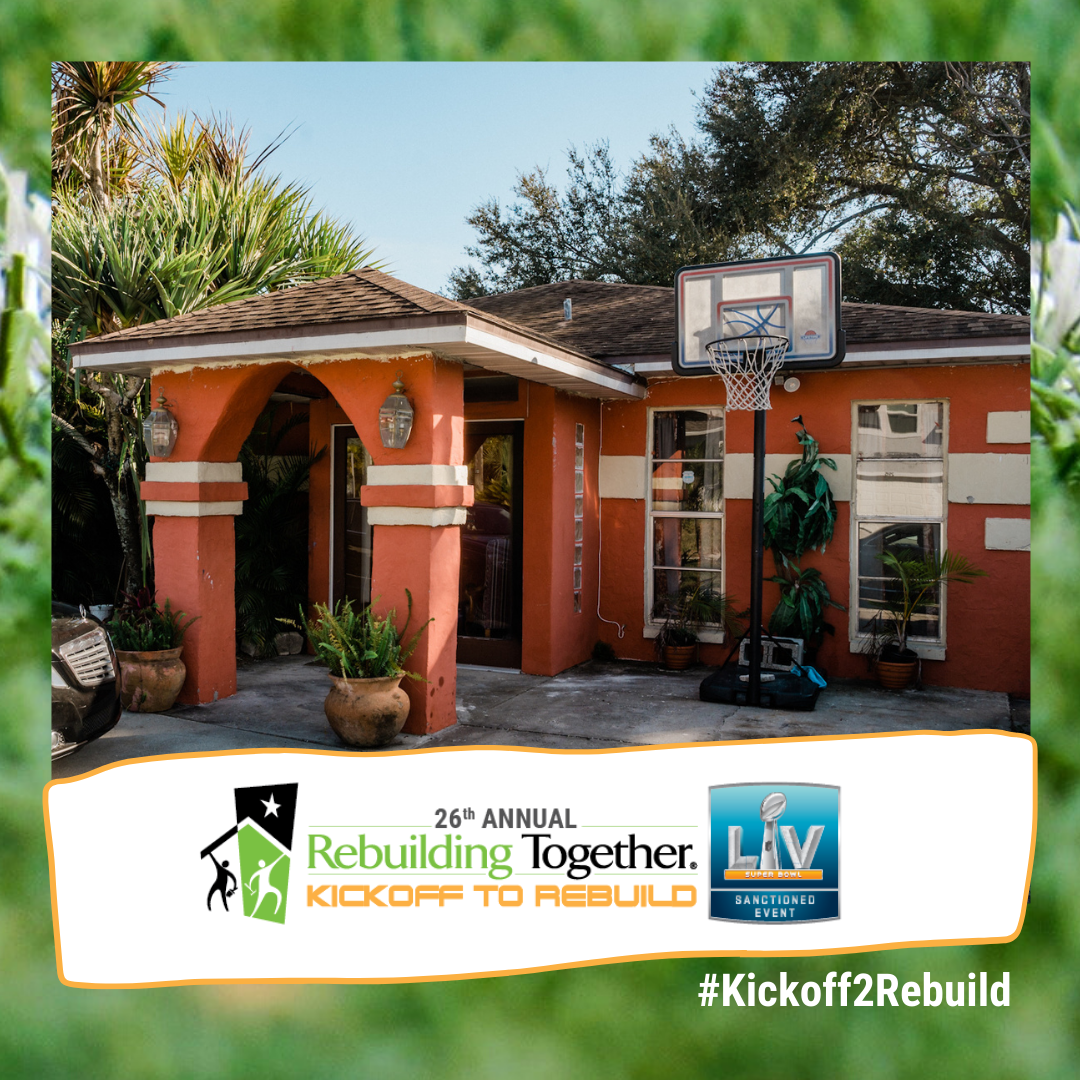 #HomeForAHome
Home has never been more important to more people than it has this past year. That's why every time the word "home" was mentioned in a nationally televised Super Bowl commerical during the Super Bowl telecast (pre-kick at start of official game telecast to end of game), Lowe's committed to working with Rebuilding Together to complete critical housing repairs in up to 32 NFL team markets for those impacted by the pandemic.
Lowe's "Home For A Home" Super Bowl campaign also engaged NFL players from Lowe's Home Team to lend a hand with repairs, to show the power of sports and fandom can unite us all. Additionally, in honor of the winning Super Bowl team, Lowe's pledged $100,000 to complete home repairs in the championship city of either Kansas City or Tampa Bay. Since Super Bowl 55 was won by the Tampa Bay Buccaneers, this funding will go to Rebuilding Together Tampa Bay.
Fans followed #HomeForAHome on social media and watched Lowe's Twitter for updates throughout the big game.
---
About Kickoff to Rebuild
Kickoff to Rebuild is an annual Super Bowl-sanctioned event hosted by Rebuilding Together. For the past 26 years, Rebuilding Together has partnered with the NFL in Super Bowl cities across the country, rebuilding houses and bringing together neighborhoods. To date, through Kickoff to Rebuild, Rebuilding Together has repaired over 150 homes, engaged more than 5,000 volunteers, and invested more than $5 million in communities nationwide.
Check out Kick off to Rebuild, Super Bowl 54
Interested in getting updates from Rebuilding Together?
Subscribe